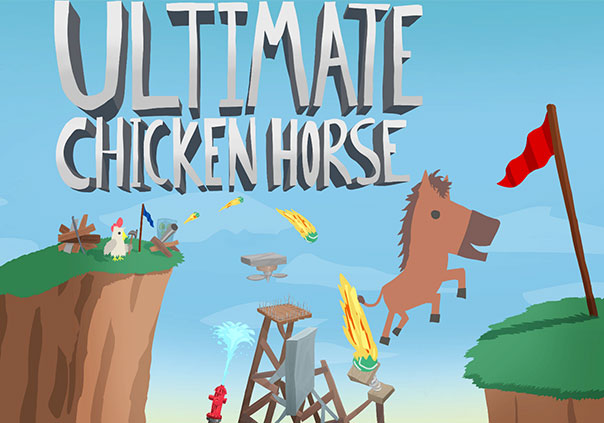 Ultimate Chicken Horse is a party platformer being developed by Clever Endeavour Games and will be available for purchase on Steam, but will also have later Xbox One and PS4 releases. In Ultimate Chicken Horse players can both design and play through platforming levels as animals by themselves or alongside their friends. What is perhaps the most intriguing about Ultimate Chicken Horse is that both building a level and playing through the level happen at the same time, so players will need to learn how to swap in and out of roles as both an intelligent designer and a skilled platformer.
In singleplayer mode you will need to build a path that you can use to reach the end of the level, but you can only do this with a limited set of platforms. You will come across new blocks and traps as you progress through levels, providing you with new ways to reach the end of the level.
In multiplayer mode players can try to reach the end of the level, finding new ways to screw each other over in the process. If you can make it and your friends can't, then you score a point.
Infinite level possibilities and a whole lot of couch party fun await in Ultimate Chicken Horse!

Status: Released
Release Date: Mar 04, 2016
Business Model: Retail
Developer: Clever Endeavour Games
Publisher: Clever Endeavour Games
Category: Stand-alone
Genre(s): 2D, Adventure, Casual
Platforms: PC, Mac, Linux, Steam, Xbox One, PS4

Editor's Score: 4/5

Pros:

+Level-building/playing simultaneously.
+Shared controller mode available.
+Many item types to learn how to use.

Cons:

-Unclear how to obtain unlockable content.
-Online multiplayer not yet available.
-No single player vs. AI.



Recommended System Requirements:

OS: Windows XP+/OSX 10.7+/SteamOS
HDD: 180 MB