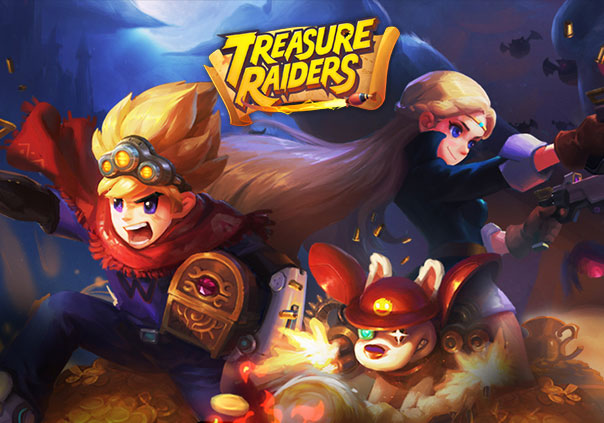 Treasure Raiders is a free-to-play mobile action shooter developed by Oasis Games for Android and is expected to release on iOS in the near future. In Treasure Raiders players can experience tons of different elements combined with bullet hell gameplay in a unique way like none other. Explore mysterious ancient tombs, eerie old castles, laboratories and more in search of untold treasures.
Encounter and play as unique characters on your journey through a storyline that is both engaging and humorous. Laugh your way through the storyline while gunning down any zombies that try to keep you from your prize, but don't think every encounter will be an easy one! You'll have to perform getaway chases, avoid tricky traps, explore through dungeons, and fight boss battles if you want to become a truly successful Treasure Raider.
Collect equipment as you play to strengthen your characters and give you better odds of fighting your way to loot. Try different combinations of weapons and experiment to see what ones work best for you. Collect even rarer quality weapons and upgrade them into some of the strongest weapons you can find!
You aren't going to be the only Treasure Raider out there either! There are many other eager raiders looking for riches beyond compare, so who says you can't all work together? Find some reliable companions and team up on explorations. Get a good mix of healer, damage dealer, and control characters so you can take down even the toughest of bosses and figure out what they were so staunchly guarding.
Search far and wide, avoid traps, and fight zombies all in the spirit of the hunt for treasure in Treasure Raiders. Hey, nobody ever said a Treasure Raider's job was easy!
Status: Released
Business Model: Free to Play
Developer: Oasis Games
Publisher: NetEase Games
Category: Mobile
Genre(s): 3D, RPG, Shooter
Platforms: iOS, Android

Pros:

+Entertaining characters.
+Clean and sharp visuals.
+Fun, engaging gameplay.

Cons:

-Tough to get teams together.
-Have to wait until a certain level to team up.
-Purchasable content overpriced.





Atlas Reactor Review
To make something organic and special? That's the real task. Trion Worlds has created this in Atlas Reactor.
by Ragachak