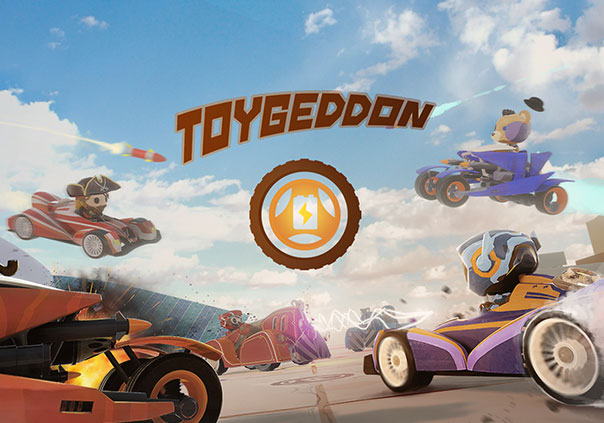 Toygeddon is a free-to-play 3D racing shooter developed by Unreal Vision for PC and is expected to release on Steam. In Toygeddon the toys of an old, dismissed shopping mall that will soon be demolished. Some of the toys have decided to go look for a new home. Some of the others disagree with that idea. This means war!
Throughout 3 different game modes toys will battle for their right to a new home, and to stay where they are. In Capture the Battery players will assume control of their toy racer and fight for batteries in a conquest-like game mode. After all, batteries are the lifeblood of all toys. In Exodus players will battle in the new shopping centre where their welcoming was less than warm and cozy. New, shiny toys aren't taking kindly to sharing their space with the old toys, so they must fight for their own space on the shelves. In King of the Mall the fugitive toys have managed to escape to the new shopping center, but it is still under construction. To reach it they will have to fight their way through the park against a faction of toys called the Marauders. Will you make it to your destination, or be left to rot in the park forever more?
Every single toy has a unique look that can be customized, while vehicles for each toy are divided into 3 different categories. Each one has different stats in terms of speed, health, and weapons capabilities. Each toy even has different power-ups and skills that will play off of their different combinations of stats, lending each a wide variety of strategies that can be implemented.
Toys are in a tizzy over the new shopping center being put in. Some like it, whereas others don't. Decide where you fit in and battle for your beliefs! This is Toygeddon!
Status: Pre-Release
Business Model: Free to Play
Developer: Unreal Vision
Publisher: Unreal Vision
Category:

Stand-alone

Genre(s):

3D, MOBA, Shooter, Sports

Platforms:

PC



System Requirements not yet known.


Description: Toygeddon is a free-to-play 3D racing shooter where players will battle as toys with different motives in three different kinds of game modes. Each toy's appearance can be customized and their vehicles can be changed to modify their stats and change their playstyle.
Slightly Mad Studios and BANDAI NAMCO Games Europe S.A.S today confirmed that Project CARS will be available for PlayStation® 4, Xbox One and...
by Mikedot
Spry Fox's Steambirds Alliance, the spiritual successor to Realm of the Mad God is ready after six years of development.
by Ragachak
Bioware and Lucasfilm released the climatic chapter "The Battle of Odessen" in Star Wars: The Old Republic.
by MissyS