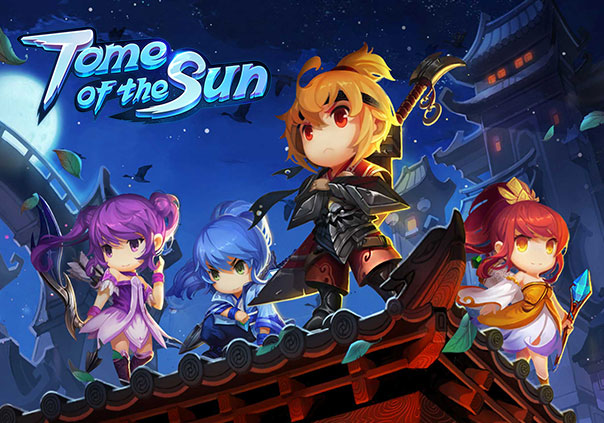 Tome of the Sun is a free-to-play mobile fantasy MMORPG developed by NetEase Games for iOS and Android. In Tome of the Sun players can create their own hero and embark on a grand quest to reclaim the power of the Tome!
Throughout a stylized fantasy world that has clearly taken roots from Asian culture players can hack-and-slash their way through a variety of multiplayer oriented game modes. With real-time PvP arenas, team dungeons, clan wars, and resource sharing you'll always have something to do.
By using the Smash System intelligently nothing will be able to stand in your way. The Smash System works by randomly assigning an enemy with a smash tag during battle. If you swipe that enemy time will slow down and you can execute a special attack against them. Learning to take advantage of your character's invulnerability and sheer power during a smash attack will help make some of the most difficult battles a breeze with the right timing.
Pets will also be an important part of your success. They function just like your player character, acting as extra attackers in battles and they can even be equipped with different armors and weapons. However, be careful that they don't sustain too much damage in battle. Once they've taken more than they can handle they will feint just like you. Nurturing your pets and helping them grow on your adventure will ensure that they always stay relevant and ready to help at a moment's notice. There are tons of different pets to collect and choose from, so you're sure to find just the right one for you!
With the Shadow World no longer being kept in check monsters are pouring into the world from every which way. Reclaim the power of the Tome of the Sun to suppress the forces of the Shadow World and become a hero!
Status: Released
Release Date: Apr 28, 2016
Business Model: Free to Play
Developer: NetEase
Publisher: NetEase
Category:

Mobile

Genre(s):

3D, MMO, RPG, Fantasy

Platforms:

iOS, Android


Editor's Score: 4/5

Pros:

+Pleasing and optimal mobile graphics.
+Polished features.
+Easy to pick up.

Cons:

-Nothing particularly new.
-Needs more customization options.
-Automated gameplay.



Recommended System Requirements:

OS: Android 2.3 / iOS 6.1
HDD: 485 MB



Description: Tome of the Sun is a free-to-play mobile fantasy MMORPG where players can embark on a quest to reclaim the power of the Tome of the Sun and bring the Shadow World back in check. An entire world of cute chibi characters, pets, and impressive abilities awaits you in Tome of the Sun!
The elite pro gaming tour is set to bring together professional computer game players across three continents.
by MissyS
Amazon Games has begun a new public alpha phase for Breakaway Warriors, and this time they're focusing on community feedback.
by MissyS