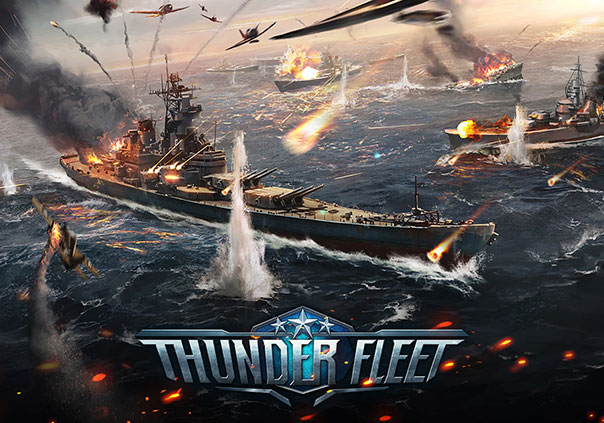 Thunder Fleet is an upcoming free-to-play mobile naval battle simulation game developed by Kingnet Technology for iOS and Android. The game combines third-person shooter-style PvP action with strategy game elements and is targeted at hardcore military game fans.
In Thunder Fleet players can collect, command, and customize over 80 authentic WWII naval ships that belong to one of four different ship classes, including aircraft carriers! These ships have been meticulously modeled based on real ship examples from the seven nations to provide the most authentic experience possible. Modifying and upgrading your ships is a core part of the gameplay, but only historically accurate modifications can happen.
In game players can maneuver their ships with taps and swipes as they try to target and lay fire upon enemy sea craft while contending with environmental conditions and fighting the effects of battle damage. Suddenly storms won't seem so insignificant as they can affect your projectiles' trajectory and cause you to hit off course. Incoming enemy fire will also need to be carefully watched. Taking a deadly salvo of enemy rounds right to your hull could require immediate repairing otherwise you'll find yourself at the bottom of the ocean.
Players can either engage in PvE battles or PvP matches depending on their preference. There are 6 different PvE battles to choose from that are historical in nature. PvP matches are fought between two teams of 6 players where you can band together with friends, allies, or completely random players. This is where you will have to shine as an exceptional naval commander, working with your team to eliminate the opposition while still managing to keep your ships safe from harm. Communication and cooperation will prove to be some of the most useful skills you could have once you're out on the water!
Take to the seas, customize your historical ships, and fight alongside other players to dominate the waters in Thunder Fleet!
Status: Pre-Release
Business Model: Free to Play
Developer: Kingnet Technology
Publisher: Kingnet Technology
Category:

Mobile

Genre(s):

3D, Simulation

Platforms:

iOS, Android



System Requirements not yet known.


Description: Thunder Fleet is an upcoming free-to-play mobile naval battle simulation game where players can engage in historical PvE and PvP battles. Upgrade your ships with historically accurate features and lay fire upon your enemies!
Mabinogi is unlike any free MMORPG I've ever played. I've never been much of an anime fan so I was hesitant when I first booted the ...
by Guest
Drake Rider can control the enemy and deal massive damage. This means that the Drake Rider can play the biggest role if he strikes first. In o...
by Mikedot