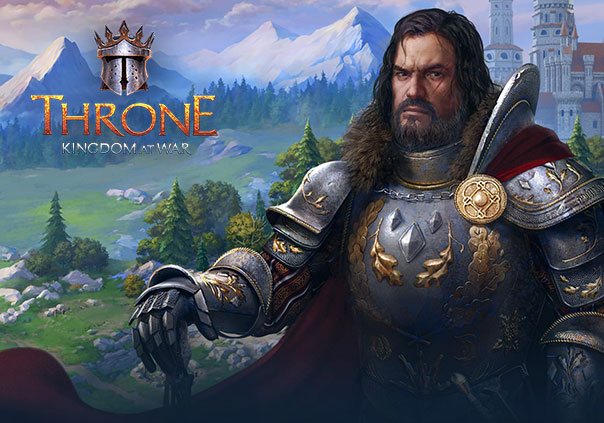 Throne: Kingdom at War is a free-to-play mobile war strategy game developed by Plarium for iOS and Android. In Throne: Kingdom at War players can walk the life of a city builder and a warlord, creating a powerful Order to demonstrate your power to all other players across the world!
Glorious battles and bloody victories are just the beginning of your quest throughout the kingdom. The moment you enter the game you will be greeted with the atmosphere of a medieval town, marches, battles, riches and more that will make your own unique journey unforgettable. Other fearless leaders seeking to conquer in the name of their Order are undoubtedly going to make your journey that much harder, but your victories that much sweeter as well.
Resources are the primary means to your success, but there are many ways to use them. You will need to balance your resource usage carefully to make sure you're keeping yourself well-defended while forming your massive armies to assault foes with. Spend your time wisely by researching new technologies to unlock new upgrades while using your resources to make defensive structures, offensive structure, create new units and more! Only you know the inner workings of your kingdom and where your time and resources will be best spent.
It would be a difficult task taking over an entire kingdom by yourself. Remember that there are other players out there just as eager as you and might be willing to join forces. Create your own Order or join an already existing one to fight alongside other players and share the throne together. You never know what you might be able to accomplish with a little help.
Assemble your army of faithful warriors, outfit them with gleaming armor that shows off your strength, and embark on an unforgettable journey for supremacy in the kingdom in Throne: Kingdom at War!
Status: Released
Release Date: Aug 25, 2017
Business Model: Free to Play
Developer: Plarium
Publisher: Plarium
Category: Mobile
Genre(s): 3D, MMO, Strategy
Platforms: iOS, Android

Pros:

+Good time killer.
+Helpful chat features.
+Updated events.

Cons:

-Gets expensive to compete with top players.
-Packs very expensive.
-Gameplay too slow.



Recommended System Requirements:

OS: iOS 7.0 / Android 4.0.3
HDD: 137 MB