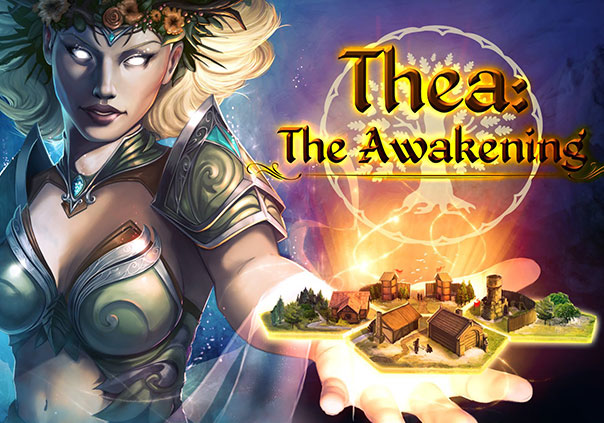 Thea: The Awakening is a 3D fantasy strategy game developed by MuHa Games for PC and is available for purchase on Steam. In Thea: The Awakening players can explore a world steeped in Slavic myth where an immense force called The Darkness has engulfed the world. Not only is their an oppressive evil force, but there are no heroes in this world. There is only a group of starving survivors doing their very best to survive on a daily basis whose only hope in this world is you!
In Thea: The Awakening you will become a god and try to guide your flock of struggling survivors through all of the risks and dangers present in the world. Resources are very limited, and you will need to decide in what ways they will be best spent, whether they be in terms of manpower or actual supplies. If you find that resources are getting low you can make the choice to send out a scouting party to find more, but on their travels they may encounter situations where they will ask your advice on what to do, leaving their fate ultimately in your hands. During your Day Turns you'll need to make sure your village is fortified and safe enough to endure the potential raids and plagues that can occur during Night Turns. Whenever particularly violent or social encounters happen you'll be able to resolve them through a card min-game where your people become your deck. You'll have to choose your parts wisely if you wish to emerge on top and unscathed.
Thea: The Awakening puts you in the role of a god, seeking only the salvation of your followers, but is that the kind of responsibility you can handle taking on?
Status: Released
Release Date: Nov 20, 2015
Business Model: Retail
Developer: MuHa Games
Publisher: MuHa Games
Category:

Stand-alone

Genre(s):

3D, RPG, Fantasy, Strategy

Platforms:

PC, Steam


Pros:

+Over 200 non-linear dynamic events.
+Over 4,400 items to learn, collect, and use.
+Different game endings depending on your choices.

Cons:

-Some enemies don't drop items you'd expect them to.
-Catalysts aren't a purposeful step in ingredient chains.
-Inventory management can be a hassle.



Recommended System Requirements:

OS: Windows 7 or later (64-bit)
CPU: Quad Core 2.5GHz
RAM: 8 GB
GPU: DirectX 11 class GPU with 2GB VRAM
HDD: 3 GB



Description: In Thea: The Awakening you can explore a world steeped in Slavic myth where an immense force called The Darkness has engulfed the world. You will take on the role of a god, trying to lead a group of your followers to survival.
Let's face it, zombies are soooooo 2010.
by MissyS