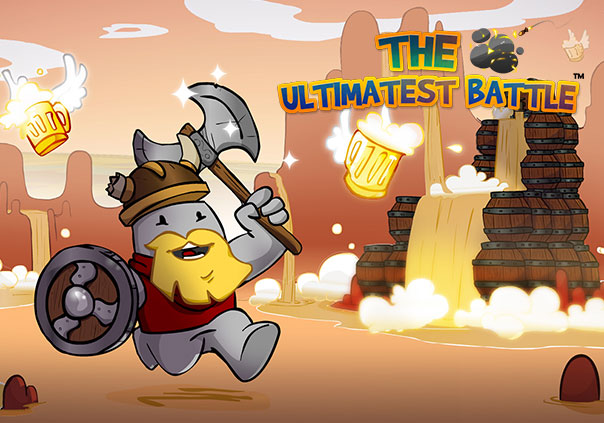 The Ultimatest Battle is a free-to-play 2D platform arena shooter developed by Ediogames for PC and Mac that is available for download on Steam. In The Ultimatest Battle players can compete in battles of two opposing teams on levels with destructible environments, leading to some panic-induced plays.
Players embody small characters called "Nubs" who are outfitted with an arsenal of weapons determined by their class. Each class has it's own advantages and disadvantages that will soon become apparent, whether it be the range they attack from, the damage they deal, or how mobile they are. Do you like bazooka's and firepower? Maybe you should try out the Soldier Nub. Perhaps an axe and a cold pint are more your style? Play as the Viking Nub and smash away! If you like digging underground and making the land your own then maybe you should give the Miner Nub a try.
With destructible environments players will be pushed to the best of their abilities. Whether you're fighting in zero gravity on the Moon or the depths of Overmine's quarries you're going to need to keep on your toes and expect the unexpected. Learn to maneuver your way around every battleground and figure out what parts can be destroyed to gain an edge over the competition. There's a little something for everyone to enjoy on each battleground.
There are many fun gamemodes to enjoy that will add even more dynamic content to your gameplay. Classically competitive players should try out Deathmatch and ControlPoint modes for some familiar kinds of combat. Others looking to spice up their gameplay can play SaveThePrincess mode where by saving a princess in the game you can gain an advantage against your opponents or the Versus Boss mode where strong bosses can be taken on.
New and old platform arena gamers will have a plethora of options in this game. With great game modes to battle in, unique classes, and dynamic battlegrounds there are sure to be many plays riddled with panic in every match. Fight alongside your allies and secure victory in The Ultimatest Battle!
Status: Released
Release Date: Sep 12, 2017
Business Model: Free to Play
Developer: Ediogames
Publisher: Ediogames
Category: Stand-alone
Genre(s): 2D, MOBA, Shooter
Platforms: PC, Mac, Steam

Pros:

+Balanced classes.
+Lots of weapons to craft.
+Fun pet system.

Cons:

-Must be a Premium member to create a Guild.
-Offers in shop need improvements.
-Map destruction can make maps too hard to maneuver on and create odd shapes.



Recommended System Requirements:

OS: Windows 7 / OS X 10.12
CPU: Intel core duo
RAM: 1 GB
GPU: Intel HD 4000
HDD: 300 MB