*Note: This game has been cancelled or shut down and isn't available for play.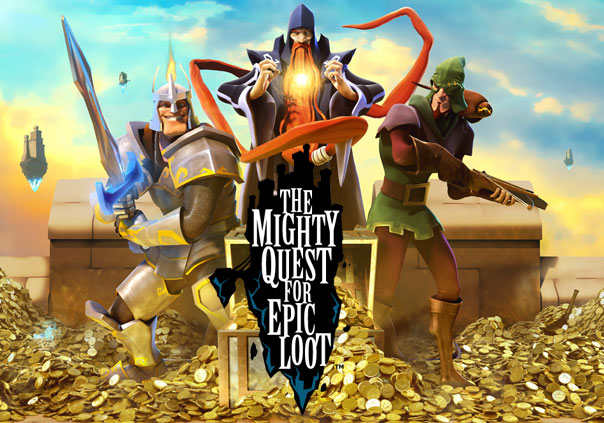 The Mighty Quest For Epic Loot
The Mighty Quest for Epic Loot is a free-to-play competitive MMO from Ubisoft. The game features four classes (archer, knight, mage, and the runaway) and two modes. When looting, players can attack the keeps of other players to raid for collectible treasure and gold, in order to get the biggest hoard. Players also are capable of setting up their own keeps for defense, adding traps, minions, and more.
ATTACK your neighbors' castles and steal their loot to amass a gigantic fortune!
CREATE your own castle and fill it to the brim with maniacal minions and treacherous traps.
COMPETE with your friends and BRAG as you triumph over their paltry attempts to defend their loot!
Classes:
The Archer
name: Blackeye Bowgart
occupation: Scary Thief
favorite weapon: Crossbow
attack type: Ranged
demeanor: Surly
The Knight
name: Sir Painhammer
occupation: Celebrity Sports Personality
attack type: Melee
favorite weapon: Huge Greatsword
gets his good looks from: Mom
The Mage
name: The Earl of Evilosity
occupation: Evil Wizard
attack type: Ranged
favorite cake: Devil's Food
favorite type of domination: World
beard status: Living
The Runaway
name: The Runaway
occupation: Aspiring Musician
attack type: Melee
Favorite Salutation: Devil Horns
Born to: Rock

Status: Shut Down
Release Date: Feb 05, 2015
Business Model: Free to Play
Developer: Ubisoft Montreal
Publisher: Ubisoft
Category:

Stand-alone

Genre(s):

Adventure, Fantasy, Strategy

Platforms:

PC


Editor's Score: 4/5

Pros:

+ Competitive gameplay
+ New twist to PvP
+ Diverse Class Skills
+ Challenging Gameplay
+ Strong Controls

Cons:

- Progression is Slow
- Class balance issues
- High level castles can be punishing



Recommended System Requirements:

OS: Windows XP & Up
CPU: 3.00 Ghz Intel Pentium IV or equivalent processor
RAM: 2 GB
GPU: DirectX 9 compliant Video Card with at least 256 MB of memory
HDD: 600 MB available space



Description: The Mighty Quest for Epic Loot is a free-to-play competitive MMO from Ubisoft. The game features four classes (archer, knight, mage, and the runaway) and two modes. When looting, players can attack the keeps of other players to raid for collectible treasure and gold, in order to get th
Just how well can a squad of scrubs fare against a seasoned team of developers at their own game? Unsurprisingly, not well at all.
by Kings Decree