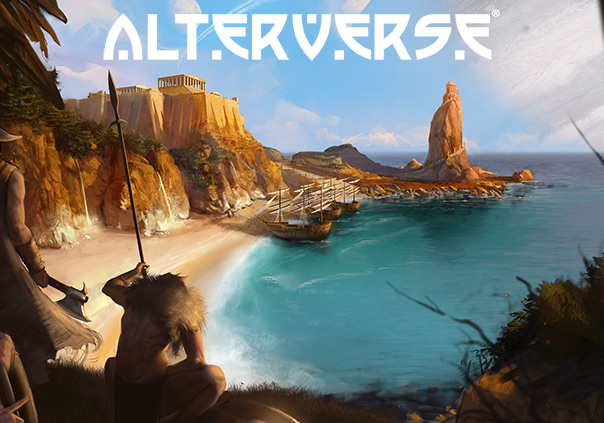 Overview
The AlterVerse is a game creation platform that allows players and creators to create their own worlds and game within the AlterVerse. Using an in-game token called the Arn, and block chain technology, every participant in this creative process has the chance to earn money for their contributions.
Currently the first "Proof of Concept Game" is in development, titled AlterVerse: Disruption. After its release, the developers plan to release five additional home worlds and quest levels, allowing players to customize and create from them, or play in PvE or PvP environments.
Story
On February 29th, using technology designed to disrupt the fabric of space and time, a young genius named Ally Puckmere opened a gateway to an alternate universe. An AlterVerse for short. A portal to the ancient future.

Soon after, billionaire Sidney Trawle learned of the discovery and suggested they build a space-worthy ship to generate the disruption field and protect themselves in the process. So they did. They named it the Magellan. They recruited a crew of over 100 people who were just brave and crazy enough to embark on a mission this dangerous.

And then, they opened the portal…
Features
► Monetization for All: Using block-chain technology players, creators, and hosts can earn cryptocurrency.
► Platform for Creation: Creators can use the AlterVerse toolkits to create worlds, games, or even just simple homes or businesses.
► Full MMO Features: AlterVerse's gaming technology allows for PvE, PvP, farming, crafting, hunting, fishing, in-game voice chat, instant messaging, mounts, and more.
► VR Support: Oculus Rift and HTC Vive are supported and the game was built to support VR from the start.
Status: Pre-Release
Business Model: Free to Play
Developer: DogStar VR
Publisher: Alpha Entertainment Group
Category:

Stand-alone

Genre(s):

3D, MMO, Adventure, RPG, Fantasy, Sci-Fi

Platforms:

PC


Pros:

+Player created worlds.
+Real economy.
+VR support.

Cons:

-Potential for heavy emphasis on in-game cash shop.
-Limited information available.



Recommended System Requirements:

OS: Windows 7+
CPU: Intel i5-4590+
RAM: 8 GB
GPU: NVIDIA GTX 970 / AMD 290



Description: The AlterVerse is a free-to-play 3D MMORPG developed by DogStar VR. The AlterVerse can be reasonably described as a merging between Skyrim and Second Life, but the AlterVerse is not merely a static world created upon release for players to explore.
OGPlanet is excited to announce that the newest expansion Gran Atlas for the MMORPG Uncharted Waters Online launches today. Uncharted Waters O...
by Mikedot
A first taste of Lime Odyssey's amazing soundtrack, created and composed by the renowned Yasunori Mitsuda.
by MissyS
Joymax has announced that the open beta for Knight Age has officially started.
by MissyS