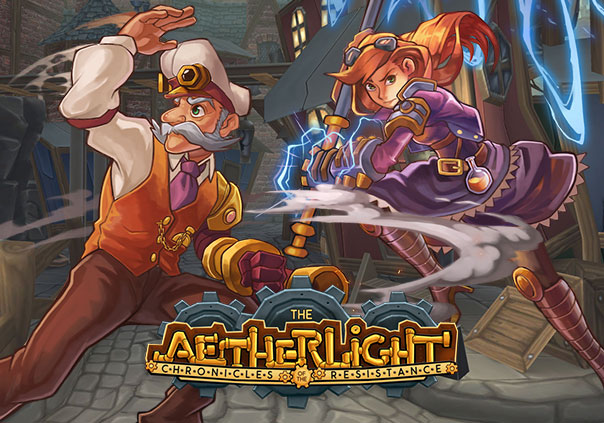 The Aetherlight: Chronicles of Resistance
The Aetherlight: Chronicles of Resistance is a buy to play steampunk MMORPG developed by Scarlet City Studios for PC and Mac. Geared towards tweens, The Aetherlight is focused on retelling the narrative of the Bible from the Old Testament to the New Testament in a compelling new world with some steampunk flair. As time goes on new episodes will become available for purchase that explore the Biblical narrative past the prior episode, allowing players to further explore their faith in the whimsical land of Aethasia.
The primary narrative of the story is focused on players joining up with the Resistance, helping the Scarlet Man against the evil Emporer Usurper. Usurper's evil automaton army will oppose players around every corner, so they will need to craft new weapons and equipment that will help them fight off these despicable machines. Many of the quests players embark on will help them restore what has been wrongfully corrupted, stolen, or seized by Emporer Usurper and will also help the Resistance become the hope of Aethasia.
Players will be able to work together on their adventure as they also try and figure out what happened to the Great Engineer. They will be able to fight alongside each other in battles, as well as share some helpful tips and hints as to what they think is the best way to fight off the fog. What could be more enthralling than fighting for freedom alongside both new and old friends?
For parents there are analytical tools available that will track how their child is progressing through the game, allowing them to create opportunities to explore the concepts of faith and life with their children in an engaging environment. Within the Resistance Academy players can even find bible study activities that will help them analyze and examine stories, contexts and meanings of different Scriptures.
Come join your friends in the Resistance Academy and help save Aethasia by bringing down the evil Emperor Usurper!
Status: Pre-Release
Release Date: May 05, 2016
Business Model: Retail
Developer: Scarlet City Studios
Publisher: Scarlet City Studios
Category: Stand-alone
Genre(s): 3D, MMO, RPG, Sci-Fi
Platforms: PC, Mac

Pros:

+Endorsement from American Bible Society.
+Safe environment for kids.
+New way to explore biblical scripture.

Cons:

-Point-and-click movement.
-Older gamers may be unenthused by the playful appeal.



System Requirements not yet known.