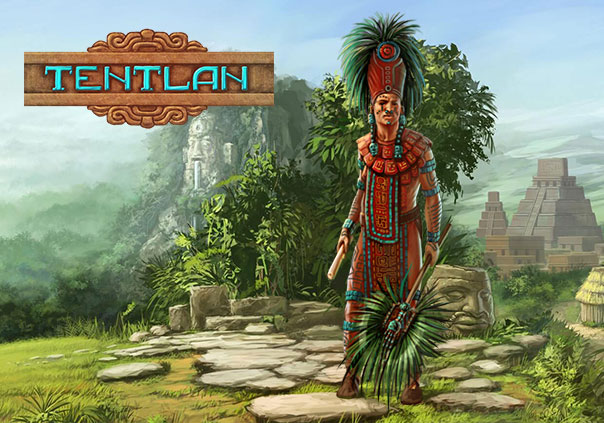 Tentlan is a browser based, 2D real time strategy game set in the era of the ancient Mayans. Players begin by building a sun temple, which is the central building of their city. Around this the player will want to create structures dedicated to gathering the resources that the game runs on; limestone, obsidian, cacao, and corn.
Players can also construct an Observatory, where the Mayans will draw inspiration from the gods and the stars in order to advance technology, giving them an edge over their adversaries, whether they be other players, or barbarians in the surrounding lands. A city's can also join a Tribe (like a guild) to trade resources and fight enemies together.
The game does feature a cash shop which uses "turquoise" for its currency. Most items obtainable there appear to be obtainable via the "Tzolkin Wheel", which players can earn spins on by defeating barbarians. These items also appear to be things that reduce speed of construction or increase speed of productions, excepting those that allow you to move your base. Turquoise can also be used to obtain the blessings of the gods, allowing players to receive a variety of benefits related to the purview of the deity that the blessing is purchased from.

Status: Released
Business Model: Free to Play
Developer: Lionmoon
Publisher: Lionmoon
Category:

Stand-alone, Browser

Genre(s):

2D, Fantasy, Strategy, Simulation

Platforms:

PC


Pros:

+ Decent graphics for the genre
+ Strong tutorial and guidance
+ Engaging story

Cons:

- Excessively familiar gameplay
- Overall lack of innovation
- Players using cash shop will have a distinct advantage





Description: Tentlan is a browser based, 2D real time strategy game set in the epoch of the ancient Mayans.
Trion Worlds announced today that the latest expansion for the RIFT Prime progression servers, Storm Legion has officially gone live.
by Ragachak
Studio Wildcard unleashes a dev kit, a modding contest, and the Survival of the Fittest battle mode.
by MissyS