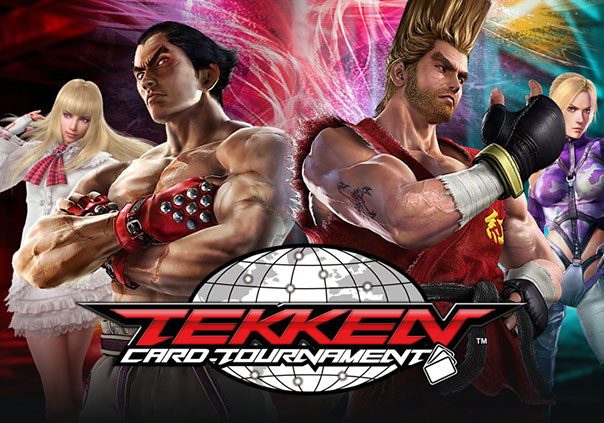 Tekken Card Tournament is a free-to-play mobile CCG developed by BANDAI NAMCO for iOS and Android. In Tekken Card Tournament players can experience fast and furious card battles with their favorite Tekken fighters! Every turn you'll have to choose between launching an attack on your opponent, defending for an upcoming attack, or drawing a new card from your deck to put in your hand of available cards. You'll have less than ten seconds to make your decision every turn, so you'll need to be on your toes and thinking ahead if you want to make the best decision for your fighters. Only by challenging the best fighters in the world will you be able to collecit even more fighters for your team!
Tekken Card Tournament features over 190 different cards to make your deck from, but the best part is they have physical representations as well. You can collect Tekken Tournament Cards in real life and use their QR codes to scan them into your digital game deck for use, bringing your cards to life. Your cards won't be the only ones being brought to life either. You can take part in global online battles too, matching up with other players of your skill level to fight with.
Your ultimate goal is to climb through the leaderboards and prove that you're one of the best Tekken fighters around. You can train in solo mode until you feel you've perfected your strategies, then take to ranked matches and global competitions. A solo campaign is also available for you to get some practice in, but also offers 50 unique challenges for you to take on all across Japan that will prepare you for the intense multiplayer gameplay to come. Themed contests and weekly battles are also regularly hosted, giving you chances to win extra rewards!
If you're a fan of the Tekken series and love your CCGs, then you're sure to love Tekken Card Tournament's unique blend of the two. Watch your fighters deliver action-packed blows to your opponents as you play your cards and become the best fighter in all of Japan!
Status: Released
Release Date: Apr 04, 2013
Business Model: Free to Play
Developer: BANDAI NAMCO
Publisher: BANDAI NAMCO
Category:

Mobile

Genre(s):

3D, Strategy

Platforms:

iOS, Android


Editor's Score: 3/5

Pros:

+Focus on team work.
+Regular updates and active community.
+Complex, rewarding battles.

Cons:

-Real life cash payments have too large of an advantage.
-Early stages of the game can drag.
-Sometimes hard to find good matches.



Recommended System Requirements:

OS: iOS 6.0 / Android 2.3.3 (or later)
HDD: 342 MB



Description: Tekken Card Tournament is a free-to-play mobile CCG where players can battle with their favorite Tekken characters by using cards to delegate actions. If you've got the gumption, take to the battlefield and prove you're the best fighter in all of Japan!
Heroic Games has announced that its indie MMORPG, Ship of Heroes, will begin its Kickstarter on April 4, 2017.
by MissyS
Behold, the latest God to come to SMITE: Artio, the Bear Goddess! I love Artio as a Guardian. She's an absolutely beefy tank machine.
by Ragachak