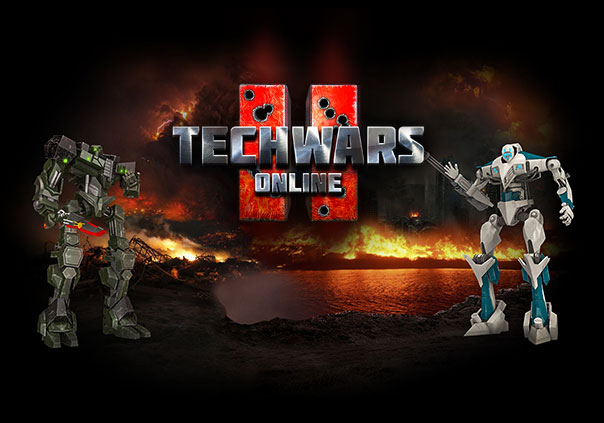 Techwars Online 2 is a 3D mech MOBA developed by Argus Games for PC and is available for purchase on Steam. In Techwars Online 2 players can take direct control of their mech units from an isometric view as its pilot, battling it out with others in heated matches. The year is 2050 and now there are no laws, but only the ruling of those with the most advanced technologies. Huge robots are now being led by Russian and American factions, causing apocalyptic confrontations of corporations on a global scale.
Players will have to choose between the Russian "Dominion" and the American "Kato" factions and fight for control over a number of different locations. Different factions have different global technologies at their disposal, so choosing a faction does play an important role in the game. The Dominion mechs can cause devastating air strikes, whereas the Kato mechs can protect themselves from damage for a few seconds. Additionally robots can come in particular classes: speedy Scouts, powerful and tough Stormtroopers, dangerous and long-range Destroyers, team-oriented Support mechs. Each player can own multiple robots at once and deploy them at their discretion. Robots can even be customized with over 100 upgradeable weapons and items to fit any situation you need them to.
Battles require players to hone their tactical senses and master using their mechs if they want to be successful pilots. Using skills and abilities at key moments can mean the moment between victory and defeat. Destroy enemy mechs and hold strategic points on the map to reduce your enemy's score. Overpower your foes and bring their score down to 0 to triumph!
Tensions have always been high between Russian and American corporations, and now with advanced robots on both ends chaos is ensuing. Choose your faction and fight for your side in Techwars Online 2!
Status: Released
Release Date: Dec 21, 2017
Business Model: Retail
Developer: Argus Games
Publisher: IGP
Category:

Stand-alone

Genre(s):

3D, MOBA, Sci-Fi

Platforms:

PC, Steam


Pros:

+Great concept.
+Lots of potential.

Cons:

-No campaign or singleplayer content.
-Needs polishing.
-Tutorial not very clear.



Recommended System Requirements:

OS: Windows 7 or later
CPU: Intel Core i5-2500K @ 3.3 GHz or AMD FX-8350 @ 4.0 GHz
RAM: 8 GB
GPU: nVidia GTX 1080 or equal
HDD: 2 GB



Description: Techwars Online 2 is a 3D mech MOBA where players can customize their own mechs and take them into battle for the Russians or Americans. Mechs can come in different classes, be outfitted with different weapons, and have special abilities to use on the battlefield.
Wargaming, the leading free-to-play MMO developer and publisher, today revealed the first details of Update 8.8 for its MMO action game, World...
by MissyS
this money will be spent to outsource animation design to a third party company who will implement roleplay friendly animations.
by DizzyPW