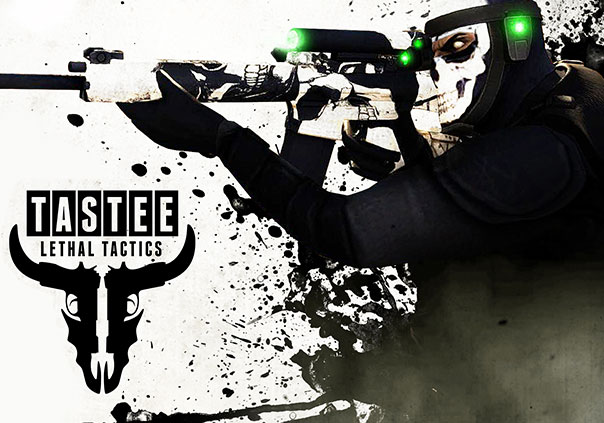 TASTEE: Lethal Tactics is a turn-based strategy game with 3D graphics developed by SkyBox Labs. In TASTEE: Lethal Tactics players can create a squad of up to 6 units, each of which belongs to one of 4 classes, and direct their squad in thoughtful ways in order to eliminate the opposition. Players will be able to fight on one of three different playable maps, each with their own strategic locations and vantage points to be utilized. Players will take turns deciding on how to move their units and what actions they would like them to initiate, but in Lethal Tactics all players take their turn at the same time. Gameplay is paused between turns, giving each player a chance to determine what they would like to do, and then resumes once both players have finalized their decisions.
There are four different classes of soldiers that can be used to compose a squad of up to 6 units:
The Gunman – A mid-range fighter who specializes in scouting.
The Bomber – Prefers explosive combat by using grenades to help flush out enemies from points of interest.
The Sniper – The classic long-ranged shooter specializing in holding down long, open spaces.
The Shotgunner – The expert of close-range combat, using a shotgun to deal hefty damage.
Features:
Multiple Unit Classes: Units in TASTEE: Lethal Tactics can be of 4 different classes: The Gunman, The Bomber, The Sniper, and The Shotgunner. Each of these classes has their own advantages and disadvantages like mid-range scouting, explosive weaponry, lane maintenance, and up-close damage respectively.
AI: TASTEE: Lethal Tacticss also supports AI opponents that players can fight against and use to help learn new, effective strategies before tackling real players.
Special Abilities: Units can be outfitted with a variety of special abilities like wall-breaching to really help players get the strategic drop on their foes.
Destructible Environment: Many of the objects on the battlefield are destructible, allowing for new firing lanes to be opened up and enemy outposts to be destroyed.

Status: Released
Release Date: May 10, 2016
Business Model: Retail
Developer: SkyBox Labs
Publisher: SkyBox Labs
Category:

Stand-alone

Genre(s):

3D, MMO, Strategy

Platforms:

PC, Steam


Editor's Score: 3/5

Pros:

+Destructible environment.
+Sensibly tactical gameplay with regards to the classes.
+Special ability selection.

Cons:

-Only 3 initial maps to play on.
-Potentially long pauses between turns.
-Lack of players



Recommended System Requirements:

OS: Windows Vista
CPU: Dual Core, 2.5Ghz (Intel Core 2 Duo, AMD Athlon X2)
RAM: 4096 MB
GPU: AMD Radeon HD 4000 Series / Nvidia GTX 200 Series / Intel HD 4000 Series
HDD: 1 GB



Description: Lethal Tactics is a strategy game developed by SkyBox Labs which puts players in control of a team of skilled soldiers whose goal is to turn the enemy team into a bloody mess! Not only is Lethal Tactics a turn-based game, but players will all take their turns simultaneously.
Recently, ASTA Online laid out its plans for changes coming in open beta.
by MissyS
Update 14.5 has plenty of content to keep fans busy.
by MissyS
Rebellious Software announced that World of Myths will have players tackling Faction Wars soon and that new mythologies will also be joining.
by Ragachak