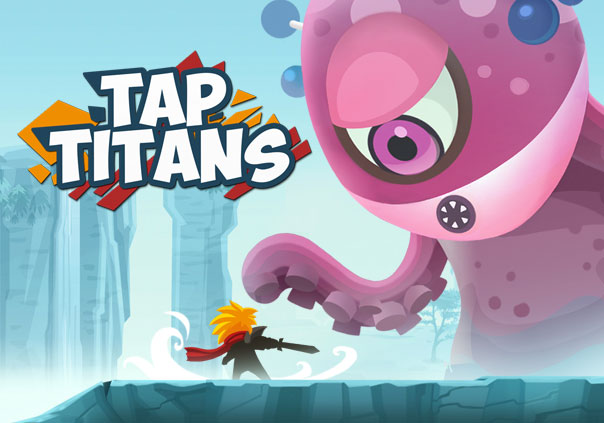 Tap Titans is a 2D Casual game developed by Game Hive Corp. where players have to defend the world from invading titans by tapping on them to slash them with their swords. When a titan is killed it will drop gold and a new titan will appear to take its place. Players will be able to advance to the next stage in the game after killing 9 regular titans and then 1 boss titan, with titans increasing in strength as each stage is traversed. Boss titans are much stronger than the regular titans encountered throughout their respective stages and once encountered a new button will appear that allows players to leave the battle and fight weaker monsters to earn more gold if they find that they can't beat the boss.
Gold can be spent in a variety of ways in Tap Titans. Players can choose between upgrading their character so he deals more damage with every tap, upgrading the character's skills like "Shadow Clone" or "Heavenly Strike", and even hiring up to 30 different animated heroes to attack titans for them. Heroes that are hired will also earn gold for players while the app isn't running, which can be collected next time the app is run. Players are also able to earn up to 30 different artifacts that will empower their skills, general damage dealt, and even grant them more gold per titan kill. As a player's main character reaches level 600 they will be presented with an option to prestige, completely restarting their progress in exchange for relics which are used to purchase and upgrade artifacts.
Tournaments are also regularly held throughout the week for players to participate in and see who can slay the most titans in the allotted time frame. Scoring high on the tournament leaderboards can get players tournament points, which can be used to outfit a player's main character with new gear to increase effectiveness.
The addictive quality of slaying titans mixed with managing how gold gets allocated and the game's simplicity results in a time-killer game that is both effective and fun for all to play.
Status: Released
Release Date: Dec 16, 2014
Business Model: Free to Play
Developer: Game Hive Corp.
Publisher: Game Hive Corp.
Category: Mobile
Genre(s): 2D, RPG, Fantasy, Idle Gaming, Casual
Platforms: iOS, Android

Pros:

+Can be enjoyed without in-game purchases.
+Many gold allocation choices.
+Fairy randomly drops buffs.
+Can earn purchasable currency by watching ads.

Cons:

-Dead heroes require purchasable currency or long timer to revive.
-Main character equipment takes a while to earn.



Recommended System Requirements:

OS: Android 4.0+ or iOS 5.0+
HDD: 90.6 MB



E3 2014 Recap – CineMagic
The concept of CineMagic is pretty plain. Play a match-3 style mobile game in the vein of Bejeweled and all the others that came before it. Do...
by DizzyPW