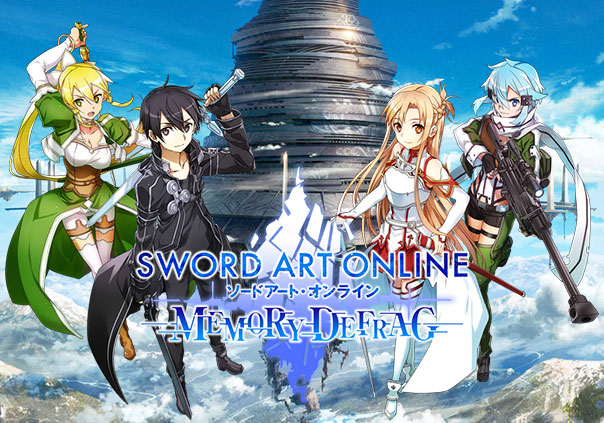 Sword Art Online Memory Defrag
Sword Art Online Memory Defrag is a free-to-play mobile multiplayer action RPG being developed by Wright Flyer Studios and published by Bandai Namco for mobile devices. The Japanese version of the game can currently be downloaded for both iOS and Android, and it is planned to have an English release sometime in Fall 2016. In Sword Art Online Memory Defrag players can experience the wonder of Aincrad in a side-scrolling adventure. It will feature many recognizable characters from the series, as well as some of the well-known boss characters from the original work. Don't think that the only thing you'll be getting is a replay of the storyline you already know though. There will also be a completely new original storyline just for the game itself!
Combat will take place in a 2D format on the battlefield where players will have to attack, parry, switch, jump, guard and more to emerge from battles as the victor. Players will also be able to work together to take down some of the grand bosses of the Sword Art Online world to get some exciting loot for their party. Character roles will also play an important role in battles, determining what kinds of traits they have and what kinds of attacks they can execute.
The game's heroes can be collected and used in a star-ranking system where the higher the number of stars the card has, the stronger the card is. These can be collected throughout the game freely or purchased with in-game microtransactions.
For the diehard Sword Art Online fan, Memory Defrag will give you the perfect chance to lead your favorite SAO characters into battle against the unknown. With enough wit, determination, and skill you'll be able to push through anything you come across and help your characters grow strong enough that nothing will be able to match their power!
Status: Released
Release Date: Jan 24, 2017
Business Model: Free to Play
Developer: Wright Flyer Studios
Publisher: Bandai Namco
Category:

Mobile

Genre(s):

2D, RPG, Fantasy

Platforms:

iOS, Android


Editor's Score: 4/5




Description: Sword Art Online Memory Defrag is a free-to-play mobile multiplayer action RPG where players can collect their favorite SAO characters and lead them into battle. With enough wit, determination, and skill nobody will be able to stop you from reaching your true strength!
Heroes Evolved has brought some highly anticipated killer features to a genre everyone said was all but dead on mobile.
by MissyS
MailRU has released a new special week-long feature for Legend: Legacy of the Dragons.
by MissyS