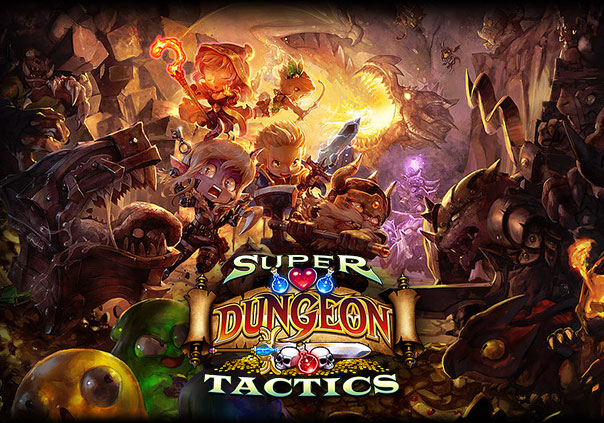 Super Dungeon Tactics is a tactical, turn-based game developed by Underbite Games where you can fight in Crystalia against the Dark Consul's forces alongside other members in your guild of Heroes. You will act as the leader of the guild, choosing to take on different kinds of bounties, go on exciting adventures, or responding to the please of the public.
You'll be able to complete quests, bounties, and reveal different parts of Crystalia whether it be for revenge, to acquire new treasures and loot, or a little bit of both. As you progress through these different types of actions you'll start to attract new heroes to your guild, each of whom has their own unique set of abilities to offer your guild. Acquiring new heroes will give you even more options for your party formation for upcoming adventures that you may go on, some of which may require more forethought than you'd originally think.
Very quickly you'll come to realize that the dungeons you're exploring are ever-changing, having different rooms and monsters each time you explore them. To do battle with the creatures you encounter you'll have to assign randomly rolled dice to each of your party members where every result can unlock potentially potent abilities. With a little luck and the right positioning you'll be clearing dungeons in no time.
When your party needs some rest and you've retreated from dungeons for the day, you can head back and spend your hard-earned loot on your Heroes. You can just generally upgrade the capabilities of your different Heroes or even get them some new abilities or effects that can change improve their effectiveness in battles. What's even more important is that leveling is loot-centric, meaning that none of your heroes will get left behind in levels. You just merely need to swap your equipment from one hero to another if you wish to swap them out and get them up to speed with the rest of your party.
Take over Crystalia, gather impressive loot, and fend off the Dark Consul's forces in Super Dungeon Tactics!
Status: Pre-Release
Release Date: Oct 16, 2016
Business Model: Free to Play
Developer: Underbite Games
Publisher: Underbite Games
Category: Stand-alone
Genre(s): 3D, RPG, Fantasy, Strategy
Platforms: PC, Mac, Linux, Steam


Recommended System Requirements:

OS: Windows 7 / OS X 10.9
CPU: Quad Core 2.5GHz
RAM: 4 GB
GPU: Card with 4GB of on-board memory
HDD: 6 GB