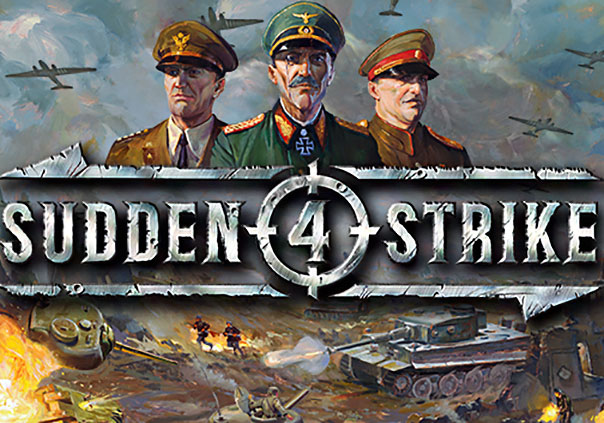 Sudden Strike 4 is a 3D real-time strategy game developed by Kite Games for PC, Mac, Linux, and Playstation 4. Sudden Strike is back in this exciting sequel, but this time with bigger battlefields, more units, better graphics, new scenarios, and commanders that have individual abilities to give them a strategic edge.
Sudden Strike 4's campaign offers three hearty campaigns set in the battlefields of World War II where you will command Allied, Soviet, or German troops and lead a vast array of different kinds of units into battle throughout 20 demanding singleplayer scenarios. For the first time in the Sudden Strike series you can choose from one of nine different commanders like Bernard Montgomery or George Patton, each of which will give you a different way of approaching battles.
Strategy will ultimately be key in deciding whether you are victorious or fail to meet the challenge. You'll have to exploit the weak spots of tanks, occupy buildings with infantry units, set up stealthy ambushes, and plain outmaneuver your enemies with clever positioning and your superior tactical knowledge. Even air strikes will be at your disposal, so how you take on each mission and each situation you encounter is entirely up to you. This will become even more the case in multiplayer matches where you will fight against other players online, all trying to outwit and outplay each other. Sudden Strike 4 even features Steam Workshop integration so you can create your own mods for the game and truly play it just how you'd like!
With so many improved features, numerous types of units to command, and an ultra competitive multiplayer mode you'll need to prepare yourself for the most tactical game in the Sudden Strike series yet!
Status: Pre-Release
Business Model: Retail
Developer: Kite Games
Publisher: Kalypso Media Digital
Category: Stand-alone
Genre(s): 3D, Strategy
Platforms: PC, Mac, Linux, Steam, PS4


Recommended System Requirements:

OS: Windows 10 / Mac OS X 10 / SteamOS, Ubuntu 15.10
CPU: Intel® Core™ i5-4590
RAM: 8 GB
GPU: Nvidia Geforce GTX 980
HDD: 12 GB