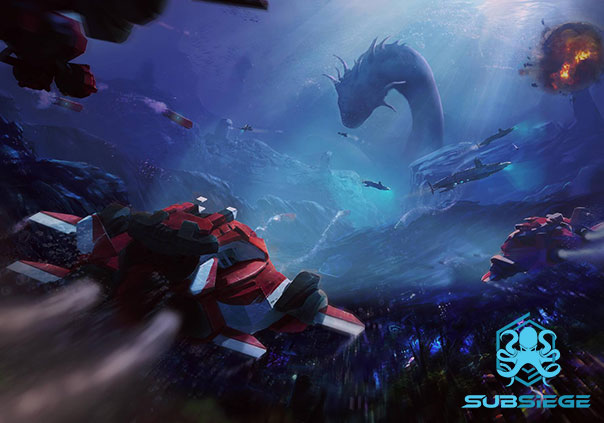 Subsiege is a buy-to-play sci-fi strategy game developed by Icebird Studios for PC and will be available for purchase on Steam Early Access sometime in March, 2017. In Subsiege it is now 2063 and the climactic disaster of overpopulation and over-consumption has resulted in the depletion of many important land-based natural resources. Now we must dive into the depths of the ocean in search of new resources to exploit if we hope to continue surviving. An underwater resource war has already started, but can you win it?
It is now your job as a commanding officer to secure the last of the Earth's resources that are hidden away in the depths of the ocean while fighting off any adversaries that dare take them for their own. Massive, real-time, 12 player battles will determine who will conquer the sea-world. You will get to command your own hand-picked quad of hero-like units to fight off anything that stands in your way, whether it be deep-sea monsters or fierce opponents. Working with your allies will be of utmost importance if you want to see another day under the ocean. Strategize, define your roles, coordinate squad setups, and work as a single unit to bring down your foes.
Actual enemies won't be the only things you'll be fighting against either! You'll also have to fight the ever-lasting battle of oxygen depletion just to keep being able to breathe. You won't be able to hide or play defensively for long when the very air you breath is on the line deep beneath the water's surface.
Get to it! Resources are running out quickly, your oxygen is depleting, sea monsters are swarming, and your enemies are marching forth. Can you handle the pressure?
Status: Pre-Release
Business Model: Retail
Developer: Icebird Studios
Publisher: Headup Games
Category:

Stand-alone

Genre(s):

3D, MOBA, Sci-Fi, Strategy

Platforms:

PC, Steam



Recommended System Requirements:

OS: Windows 7, 8, 10
CPU: 2 GHz
RAM: 4 GB
GPU: Card with 4GB memory
HDD: 2 GB



Description: Subsiege is a buy-to-play sci-fi strategy game where players will fight against each other and the environment for resources and oxygen. Can you handle the pressure and ensure your survival for another day, or will you suffocate under the stress of war and lack of air?
Following the successful rounds of testing earlier this year, the Age of Civilization Closed Beta is coming back for a third round on the Game...
by MissyS
Tilting Point and Edgeworks Entertainment are bringing a game-changing update to their mobile title, TerraGenesis.
by Ragachak
Today, a new update arrives in Rusty Hearts, along with a new playable avatar.
by MissyS