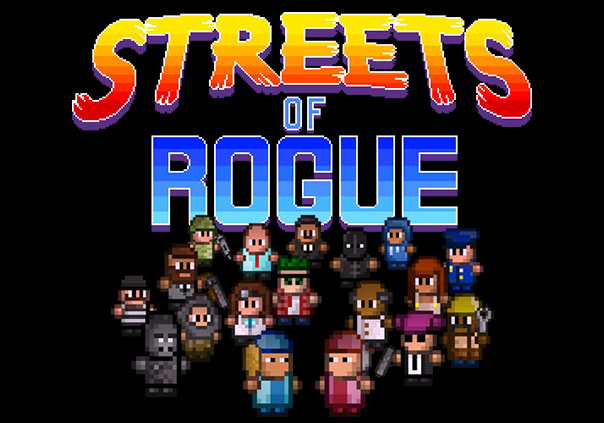 Streets of Rogue is a free-to-play 2D roguelike RPG developed by tinyBuild for 64-bit versions of Windows. It is currently in Open Alpha and will see a large content boost in multiple different parts of the game upon the release of the full version of the game. In Streets of Rogue players can experience choice, freedom, and anarchic fun all wrapped up in the same game! The setting of the game is a procedurally generated city filled with citizens from all walks of life going about their daily activities like bartending, guarding a bank, or making sure prisoners stay in their jail cells.
Throughout the game players will be presented with a variety of missions that they can take on either solo or cooperatively, using their character's traits, items, and the environment around them. Everything from a stealthy scientist to a genial bartender or even a hyper-intelligent gorilla can be played as, each with their own items that can be used in a variety of different ways to complete objectives. Shrink rays, hypnotizing devices, boomboxes, bear traps, food processors, and air vents will even become parts of your master plans. You'll even be able to lead a gang, gib ghosts, become a vampire, start a dance party, and much more! No matter if you want to complete the game peacefully, or wreak havoc on the denizens of the city Streets of Rogue has a character for you to play as.
Streets of Rogue not only supplies you with entertaining, unique gameplay, but it also gives you all of the choice you could ever want in how you go about completing your missions. So what are you waiting for? Go take over the city just how you'd like to!
Status: Pre-Release
Release Date: Mar 10, 2017
Business Model: Free to Play
Developer: Matt Dabrowski
Publisher: tinyBuild
Category: Stand-alone
Genre(s): 2D, RPG
Platforms: PC, Steam

Pros:

+Multiple ways to approach missions.
+Varying objectives in missions.
+Purposeful item usage.
+Randomly generated levels.

Cons:

-Cooperative doesn't add much to the game.
-Lacks a certain competitiveness.



Recommended System Requirements:

OS: Windows 7 or Later
CPU: Dual-Core Intel or AMD processor
RAM: 2 GB
GPU: DX9 (shader model 3.0) or DX11 with feature level 9.3 capabilities
HDD: 300 MB