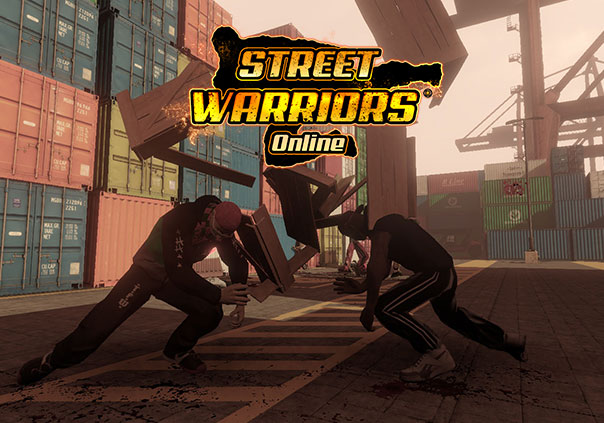 Street Warriors Online is a free-to-play 3D fighting game developed by Crazy Rocks Studios for PC and is available for download on Steam. Have you ever wanted to just get a little taste of what street fighting is all about? That's exactly what Street Warrior Online intends to deliver!
In Street Warriors Online players can enjoy realistic, intense PvP brawling in 8 versus 8 matches where your goal is to simply beat your opponents. Your character can be customized with new skills and combo progressions that will create a flurry of blows that's all your own. Characters can be one of three classes: Swarmer, Slugger, and Bruiser. Swarmers are a female class that specializes in high energy regeneration and agility. Sluggers are a well-rounded class that can hold their own in a variety of situations. Bruisers are slow-moving fighters that deal heavy damage and can take a beating as well.
Don't think that being a Street Warrior means that you need to stay a lone wolf forever either. Friends will be important to your success, giving you players to fight alongside that you can work well with. Large groups of players can even form a clan so they can all fight together.
Friends are a great asset to have in a fight, but so is knowing how to use your environment to your advantage. Throughout the map you'll find heavy objects that can be thrown, one-handed weapons like pipes, and small throwables like bottles that can deal damage, weaken, or stun your opponents.
Street Warrior Online has all of the chaotic elements of a true street fight and learning to manage all of them will be what keeps you at the top of the pack. Throw swift kicks, land devastating punches, and beat your opponents into submission!
Status: Released
Release Date: Dec 16, 2016
Business Model: Free to Play
Developer: Crazy Rocks Studios
Publisher: Crazy Rocks Studios
Category:

Stand-alone

Genre(s):

3D, MOBA, Fighting

Platforms:

PC, Steam


Pros:

+Great potential for expansion.
+Fun, yet simply designed.
+Satisfying fighter customization.

Cons:

-Needs some optimization.
-Matchmaking takes a while to find good matches.
-Environment needs more interactivity.



Recommended System Requirements:

OS: Windows 7 32/64-bit / Vista 32/64 / XP
CPU: Intel core 2 duo 2.4GHz
RAM: 2 GB
GPU: NVIDIA GeForce GTX 470 / ATI Radeon HD 6970
HDD: 4 GB



Description: Street Warriors Online is a free-to-play fighting game where players can fight in heated 8 versus 8 matches with their own customizable fighter. Never has landing swift kicks and brutal punches felt so raw and satisfying!
What looked like it might be a quiet week for our little niche of gaming news still ended up leaving us with some gems to report on.
by MissyS
The mighty leader of the Decepticons, Megatron, is now playable in Transformers: Forged to Fight.
by Ragachak