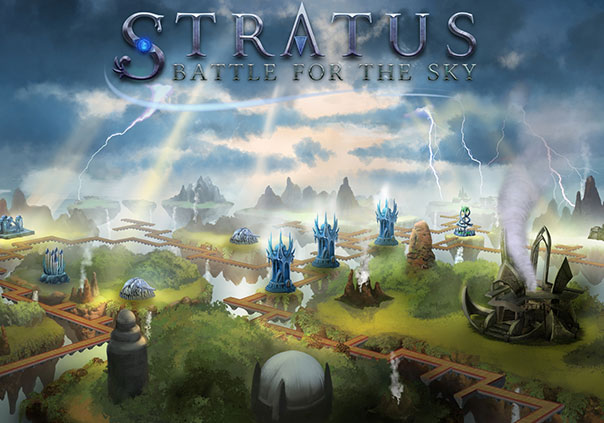 Stratus: Battle for the Sky
Stratus: Battle for the Sky is a buy-to-play fantasy RTS game developed by Storm Isle Productions for PC, Mac, and Linux and is available for purchase on Steam Early Access. In Stratus the world of Sonus is ruled by the gods of Thunder, Rain, Sun, and Wind and has been torn apart by powerful, eternal storms. Now the native inhabitants have retreated to the majestic islands floating in the sky high above the chaos below. Over time inhabitants are once again called down to the land below as the Tempests drag their islands back down during the "Times of Descent". Once there each faction must battle to prove their worthiness to the Tempests in hopes of ascending high up into the sky to safety once more, that is before the next "Times of Descent".
In Stratus: Battle for the Sky players must summon units to aid them in taking out their opponents' units. Different kinds of resource generators will be available like power generators and rain collecting golems that will make it so players can summon units, but resources will need to be managed carefully to succeed.
Players will take control of a high priest of Sonus and align to one of the Tempests by constructing a temple in their honor. The faction chosen will determine unique units and defensive mechanisms that are at your disposal. A priest will act as an avatar for a player and enable them to support their units with a variety of different spells. The priest also acts as the main objective of each match where players must capture the enemy priest to submit them as an offering to their chose Tempest.
Will you lead your Tempest, and your people to victory or will your islands be sacrificed in the chaotic land below?
Status: Pre-Release
Release Date: Nov 29, 2016
Business Model: Retail
Developer: Storm Isle Productions
Publisher: Storm Isle Productions
Category:

Stand-alone

Genre(s):

3D, Fantasy, Strategy

Platforms:

PC, Mac, Linux, Steam



Recommended System Requirements:

OS: Windows 7 / OS X 10.8 / ubuntu 12.04
CPU: SSE2 instruction set support
RAM: 2 GB
GPU: Shader Model 2.0 compatible card
HDD: 3 GB



Description: Stratus: Battle for the Sky is a fantasy RTS game where players can choose their own faction and lead them to victory by capturing the enemy priest. Priests act as a player's avatar that can cast spells and each faction will have its own unique units and defense mechanisms.
RiotZone players will discover a new daily mission after today's update.
by MissyS
GBE Games, a global publisher and distributor of interactive online entertainment media, today announced it will launch an all-new Election Sy...
by MissyS
Red 5 Studios™ is proud to announce that its highly anticipated free-to-play open world shooter, Firefall, has entered the first stage of Op...
by MissyS