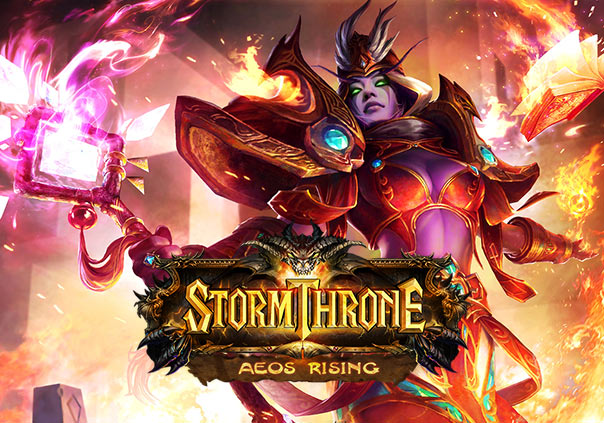 Stormthrone is an expansive, full-featured free-to-play browser MMORPG published by R2Games and developed by Mokylin set in a fantasy world besieged by evil. Players will discover Aeos, the last world in the cosmos – and the final front in the war against the enemies of light! Unique heroes drawn from three races and six classes will journey to the city of Dawnhold, crown jewel of the human empire and the heart of a richly detailed setting. Thousands of players will join the fight to conquer evil and prove their skill and strength – all from the comfort of a web browser!

The six heroic classes – Warrior, Mage, Priest, Rogue, Hunter, and Paladin – bring a wide range of tactical abilities into battle, but mastering Stormthrone's brand of real-time combat requires something else: the mighty Aeon Weapons. The greatest heroes in history have wielded these ancient artifacts, and now players will have a chance to unlock an ever-growing roster of powers for themselves.

Stormthrone offers a deep, engaging experience to players of all profiles and preferences. Solo quest content, challenging co-op adventures, arena combat, and massive cross-server PvP events are only the beginning – the Four Realms, massive hubs that connect players from across the world, will offer unprecedented opportunities for collaboration, interaction, and competition. The dangers are many, but the rewards are great – every victory brings new chances for powerful equipment, crafting materials, and unending fame.

Complementing the depth and drama of the war for Aeos is Stormthrone's rich orchestral soundtrack, composed and orchestrated by award-winning composer Daniel Sadowski. Produced with nearly one hundred performers, Sadowski's unique vision of Aeos is an integral part of the Stormthrone experience that establishes a new gold standard for browser gaming. Previews can be found at the official Stormthrone site, and the OST itself – including over an hour of lush, gripping music – will soon be available on all major digital music services.

Status: Released
Release Date: Nov 19, 2014
Business Model: Free to Play
Developer: Mokylin
Publisher: R2Games
Category: Browser
Genre(s): 3D, MMO, RPG
Platforms: PC, Mac

Pros:

+3 Races & 6 classes to build a character.
+Four realm social hub & competition system, multi-server PvP
+Soundtrack by Daniel Sadowski.

Cons:

-Looks similar to other browser MMORPGs.



Minimum System Requirements:

OS: Windows XP / Vista / 7 / 8, Mac OSX
Web Browser: Up-to-date Firefox or Chrome