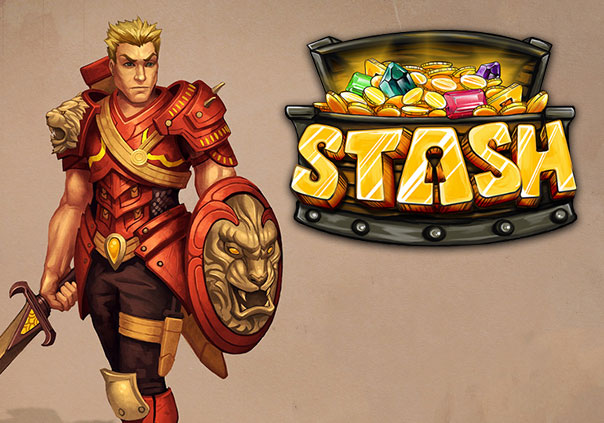 Stash is a free-to-play fantasy MMORPG developed by Frogdice for PC, Mac, Linux, and is available for download on Steam. In Stash players can become part of the world of Primordiax, a game world already fleshed out in 6 prior titles developed by Frogdice. Now that the world story has evolved through decades of staff plot lines and the actions of hundreds of thousands of players, once more it can be experienced tabletop style in Stash!
Create a character by choosing from over three classes, such as the Healer or Elementalist, which can be personalized by your character's race, putting on different costumes, and equipping different mounts and pets. Explore the world map in a board game fashion to discover handcrafted and procedurally generated dungeons with loot hiding in their depths. Beware of the creatures that lurk within and overcome them in turn-based combat on a grid, using skills and spacing for tactical advantages.
Stash is all about loot, loot, and more loot! Manage resources and loot to establish your player housing, or Base Of Operations. Grow from the smallest of tents to a massive mansion, upgrading and decorating your base with all sorts of valuable loot. Craft gear with the drops you acquire and sell your finished items for a mint to other players. Team up with others in a guild to take down raid bosses for rarer loot and share resources to craft some of the most epic loot the world has seen.
Take part in a game driven by a devoted community in Stash. Join others for exciting dungeon runs and play your part in helping the progression of the game world. With a story meant to unfold with community interaction and a unique approach to making the grind enjoyable and meaningful. How much of the Primordiax will you be able to impact in the end?
Status: Released
Release Date: Sep 07, 2017
Business Model: Free to Play
Developer: Frogdice
Publisher: Frogdice
Category:

Stand-alone

Genre(s):

3D, MMO, RPG, Fantasy

Platforms:

PC, Mac, Linux, Steam


Pros:

+Devoted devs.
+Awesome and supportive community.
+Worthwhile crafting system.

Cons:

-Monster drops not very good.
-Not enough partying encouragement.
-Too grind-oriented.



Recommended System Requirements:

OS: Windows 7
CPU: Intel i3 or equivalent
RAM: 6 GB
GPU: Discrete video card
HDD: 2 GB



Description: Stash is a free-to-play fantasy MMORPG where players can unlock the game world as a community and take on both handcrafted and procedural dungeons. With your end goals always coming back to collecting even more sweet loot you're sure to enjoy the grind in this game!
Allods Online officially launches into Open Beta. gPotatos critically acclaimed and highly anticipated free to play MMORPG is finally availabl...
by Guest
Being the granddaddy of Battle Royale games, H1Z1 just recently went out of early access and finally joined its successors.
by Ojogo
AbleGamers Charity is getting ready to celebrate 10 years of fighting for the rights of gamers with disabilities to enjoy the same content as ...
by MissyS