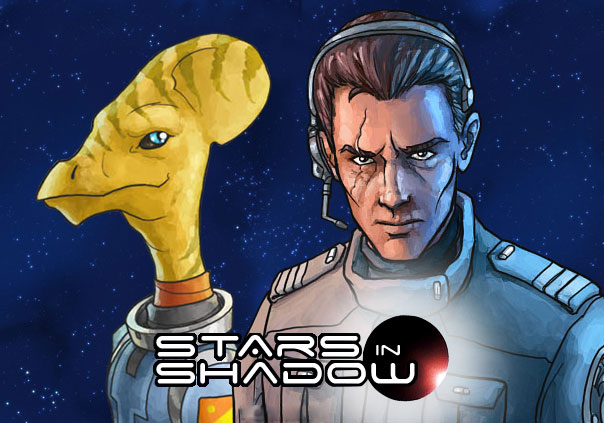 Stars in Shadow is a buy to play sci-fi 4X strategy game being developed by Ashdar Games Inc. for PC and is expected to release in the first half of 2016. It has been three thousand years since the end of the Great War, a conflict involving ancient technology and alien civilizations. Now the more primitive species of the past have evolved enough to start looking towards the stars and they are beginning to discover these lost technologies. Whether this will result in more destruction or hope for the future has yet to be determined.
You will be put in control of one spacefaring civilization of your choice, leading your people in space explorations and the creation of a galactic empire. You will engage in turn-based combat against other civilizations with your fleet of spaceships as you expand, taking over new planets for both colonization and resource-collecting purposes. New technologies can be unlocked through diplomacy with other civilizations and by conducting your own research which will help you upgrade and outfit your fleet with different, more advanced tools.
Once your colony has become large enough you will need to carefully prioritize between expanding your fleet, researching new technologies, or finding new planets to mine for resources. The species of aliens that you come across will also play an important role in your success. You might choose to completely eliminate some races to avoid having to convince them to work together, or you could do your best to assimilate all species to take advantage of their unique proficiencies.
Even your own species selection will influence gameplay. The species you choose to lead will immediately come with its own stigmas from the others and affect the types of alliances you form, the trade agreements you can be presented with, and most importantly how much they trust you.
Conflict is inevitable in a universe concerned with expansion and the collection of resources. Your job is to look out for the interests of your own species, help them grow, and prevent their decimation by whatever means you see fit.
Status: Pre-Release
Business Model: Retail
Developer: Ashdar Games Inc.
Publisher: Ashdar Games Inc.
Category: Stand-alone
Genre(s): 2D, Sci-Fi, Strategy
Platforms: PC

Pros:

+Species have unique attributes.
+Environment terraforming to suit different needs.
+Politics play an important role.
+Wide range of weapons to utilize.

Cons:

-Slow development due to having only two developers.
-No intensions of having multiplayer for initial release.



Recommended System Requirements:

OS: Windows XP 32-bit or later
CPU: Core 2 Duo E4400 2.0GHz / Athlon 64 X2 Dual Core 4200+
RAM: 4 GB
GPU: GeForce GT 340 / Radeon HD 5550 1024MB