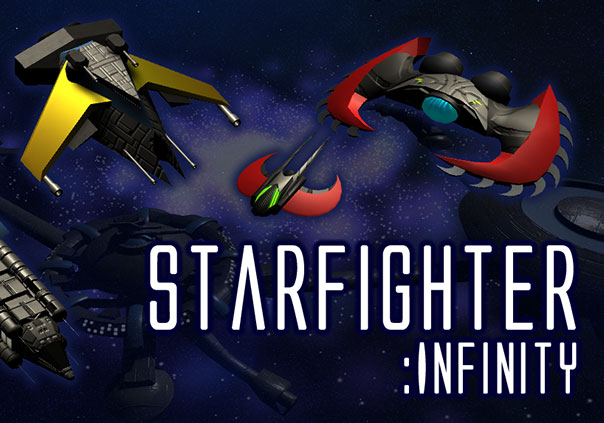 Starfighter: Infinity is a sci-fi MMORPG set in space where fast-paced top-down skill intensive dogfighting combat determines whether you'll to see another day or not. Explore an expansive universe filled with objective based missions to complete across various dangerous locations such as asteroid fields, planets, stars, and even terrifying black holes. Seek out fame and fortune by participating in dangerous activities like answering distress calls and investigating anomalies. Alternatively, choose instead to live the quiet life by mining precious minerals and either selling them or crafting brand new weapons.
As you open up new areas, so will the opportunities to increase your repertoire. By leveling up you'll gain access to new ships, firepower, and upgrades. The huge array of imaginative weapons can be crafted, found, or bought and can include the likes of unguided energy based rapid fire cannons, guided missiles, and various other armaments such as shields, healing beams, stealth systems, mines, and augmentations.
Go it a alone, with a friend, or in direct opposition of other players, even if you don't exactly set out to do so. For example, you could get a mission to protect an envoy, whereas another player might be tasked with destroying it – thus, the showdown between two pilots will begin. Similarly, you can start or join an organization repping chosen colors, logos, and titles as well as the chance to take advantage of a collection of environmental altering perks.
You aren't some destined hero, you're just a started-from-the-bottom wanderer trying to make their own way in this great big universe. Do what you want to do, whether that's seeking power, money, or intergalactic influence and prestige – there is no wrong path in a galaxy of infinite possibilities.
Status: Pre-Release
Business Model: Subscription
Developer: Ben Olding GAmes
Publisher: Ben Olding GAmes
Category: Stand-alone
Genre(s): 3D, MMO, Adventure, RPG, Sci-Fi, Shooter
Platforms: PC, Mac


System Requirements not yet known.