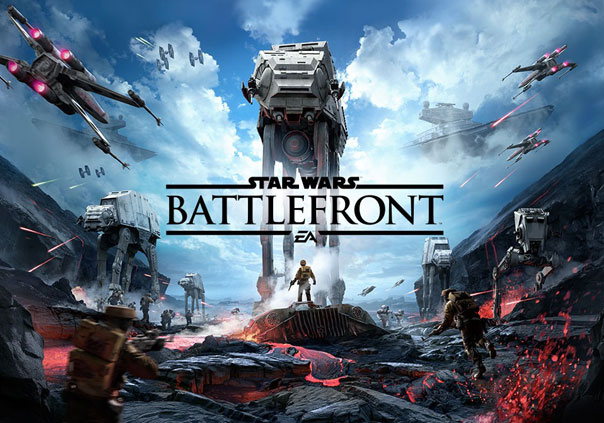 Star Wars Battlefront is a sci-fi action shooter featuring large-scale combat both on land and in the air.
<b>Story</b>
The long-standing conflict  between the Empire and the Rebel Alliance continues, but this time it's a brutal ground war. Rep either side you desire and fight for control of the galaxy.
<b>Features</b>
►Mayhem: Engage in hectic combat with up to 39 other players.
►Away from the Frontlines: Take part in offline missions by yourself, cooperatively with another player, or alongside an AI player.
►Top Generals: Take direct control of iconic characters from the franchise like Luke Skywalker and Darth Vader.
►More than Transport: Jump into recognizable vehicles like Walkers, Millenium Falcons, and TIE Fighters to turn the tide of the battle.
►Perspective Change: Change your in-game view from first-person to third-person (and vice versa) at a moment's notice.
►I Always Win: Play both sides of the war for a new take on visuals and gameplay.
►New Spins on Old Ways: Explore various other game modes like Supremacy, Cargo, Droid Run, Walker Assault, Drop Zone, and Heroes vs. Villains.
►Looking Good: Enjoy a Star Wars game like never before with jaw-dropping graphical fidelity.
<b>Classes</b>
Fall into the Empire ranks as an elite Stormtrooper or stand against tyranny as  a scrappy Rebel Alliance soldier.
<b>Expansions</b>
Jakku: Enjoy 2 new locations as well as a multiplayer game mode free of charge.
Outer Rim: Travel to Jabba the Hut's home planet for more places and ways to engage in deadly firefights.
Bespin: Next up on the bloody campaign is the high in the sky Cloud City complete with more maps and another game mode.
Death Star: Arguably one of the most recognizable symbols of the original trilogy is now available as a battlefield set piece.
Rogue One: Celebrating the Star Wars expanded universe film is some DLC adding the map Scarif and introducing playable characters Erso and Orson Krennic.
<b>Microtransactions</b>
This is a retail title requiring an additional purchase to access multiplayer DLC.
Status: Released
Release Date: Nov 17, 2015
Business Model: Retail
Developer: EA DICE
Publisher: Electronic Arts
Category: Stand-alone
Genre(s): 3D, Sci-Fi, Shooter
Platforms: PC, Xbox One, PS4

Pros:

+Perspective swap at will.
+Various vehicles to control.
+Impressive visuals.

Cons:

-No singleplayer campaign.
-No space battles.



Recommended System Requirements:

OS: Windows 7+ 64-bit
CPU: Intel i3 6300T+
RAM: 8 GB
GPU: nVidia GeForce GTX 660 2GB/AMD Radeon HD 7850 2GB+
HDD: 40 GB



Description: Star Wars Battlefront is a sci-fi action shooter featuring large-scale combat both on land and in the air.
SMITE's team has let slip a preview of the upcoming reworks for Zeus and Nu Wa, scheduled for its next patch.
by MissyS
After just five months in Early Access, Victor Vran is released with amazing 94% user approval from the Steam Community.
by MissyS
Alaplaya has announced a new game, which will begin closed beta by the end of the year: L.A.W. - Living After War.
by MissyS