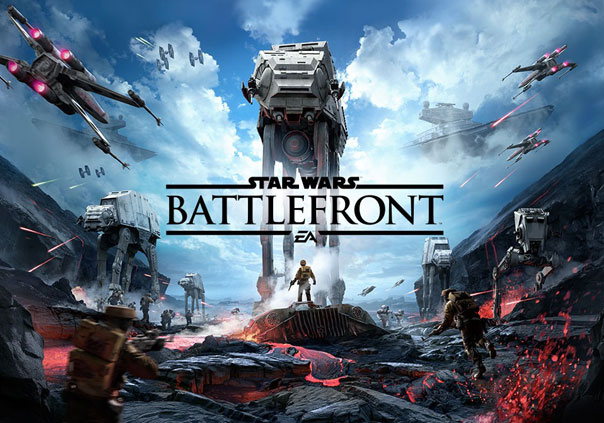 Star Wars Battlefront is a sci-fi action shooter developed by EA DICE that is based on the rich history of the Star Wars franchise and is available for purchase on PC, Xbox One, and PlayStation 4. In Star Wars Battlefront players will explore the Star Wars universe, traveling between various planets and engaging in both land and air combat in their choice of a first-person or third-person point of view. Players will be able to either take on offline missions by themselves or with cooperatively with friends, or play online Multiplayer game modes that can have up to 40 players in a single match!
When on land, players will by default be able to control either a Stormtrooper or a Rebel Alliance soldier trying to gun down the opposition. Hero characters like Luke Skywalker, Darth Vader, and Boba Fett will also be able to be controlled either by finding hero power-ups in the match or by playing specific match types like Heroes vs Villains! Some land vehicles like the Walker can also be commanded and used to really wreak some havoc on enemy forces. Players will even be able to take to the skies in iconic Star Wars aircraft like a Millenium Falcon or even a TIE Fighter and rain devastation on their foes from above. All of these and more can be used in Star Wars Battlefront's different game modes like Supremacy, Cargo, Droid Run, Walker Assault, Drop Zone, and more!
No matter what planet you're fighting on and whether it be on land or in the air, you'll be able to enjoy stunning visual effects and the nostalgic history of Star Wars being brought to life before your very eyes. Get into heated battles at many iconic Star Wars locations and play as some of the most fearsome fighters in the known universe!

Status: Released
Release Date: Nov 17, 2015
Business Model: Retail
Developer: EA DICE
Publisher: Electronic Arts
Category: Stand-alone
Genre(s): 3D, Sci-Fi, Shooter
Platforms: PC, Xbox One, PS4

Pros:

+Perspective swap at will.
+Various vehicles to control.
+Impressive visuals.

Cons:

-No singleplayer campaign.
-No space battles.



Recommended System Requirements:

OS: 64-bit Windows 10 or later
CPU: Intel i5 6600 or equivalent
RAM: 16 GB
GPU: nVidia GeForce GTX 970 4GB / AMD Radeon R9 290 4GB
HDD: 40 GB