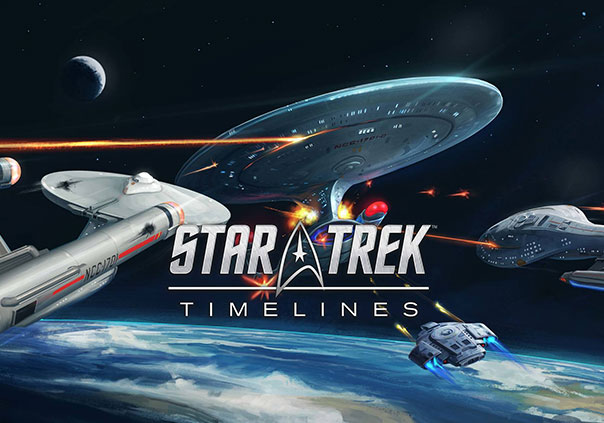 Star Trek Timelines is a free-to-play mobile sci-fi game developed by Disruptor Beam for iOS and Android. In Star Trek Timelines players can join Starfleet and explore the Final Frontier as they overcome challenges throughout the entire history of Star Trek!
On your journey you'll be able to assemble your crew from hundreds of different characters from the Star Trek universe including the original Star Trek, The Next Generation, Deep Space Nine, Voyager, and Enterprise as well as pilot many of the different ships you've come to know and love like the USS Enterprise, Voyager, Defiant, the Borg Cube, a Klingon Bird of Prey. These ships will be used in exciting 3D ship battles that can be conducted in a PvE setting or in the new PvP Battle Arena.  The only way to know your crew's true capabilities is to put them to the test against every and any formidable foe you can find! If you're skilled enough and find yourself climbing through the leaderboards then you'll even acquire some rare rewards.
Your adventures will also bring you into contact with many of the different factions from Star Trek like the Federation, the Maquis, the Dominion, the Terran Empire (TOS: "Mirror, Mirror"), and Section 31. Play your cards right and you might gain influence among them and find that it would be in your best interest to work with them further.
With great graphics that bring your favorite Star Trek ships to life, a slew of crew members to choose from, and exciting rewards to be earned Star Trek Timelines will draw you into the Star Trek universe that you've come to know and love! So choose your ship, choose your crew, and go explore the galaxy!
Status: Pre-Release
Release Date: Jan 14, 2016
Business Model: Free to Play
Developer: Disruptor Beam
Publisher: Disruptor Beam
Category: Mobile
Genre(s): 3D, RPG, Sci-Fi, Strategy
Platforms: iOS, Android

Pros:

+Satisfyingly complex.
+Good storyline.
+Satisfying grind.

Cons:

-Buggy patch releases.
-Somewhat forces players to make in-game purchases.



Recommended System Requirements:

OS: iOS 8.0 / Android 4.1
HDD: 146 MB