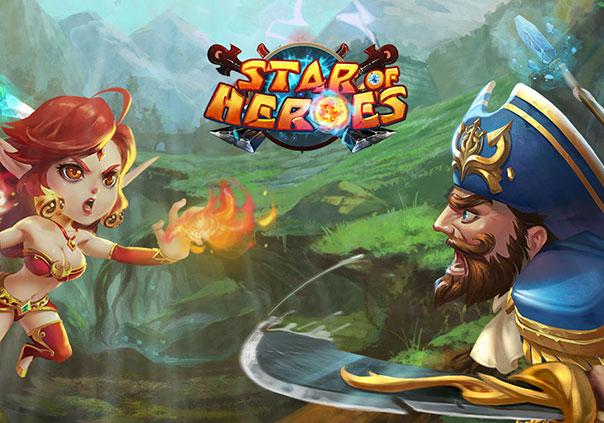 Star of Heroes is a free-to-play 2D browser MMORPG developed by Loygame where players can command an army of heroes and take down forces of evil! Players can join up as either a Scourge or a Sentinel to take down the evil Roshan and his villainous plans, or they can even participate in heated PvP battles where they can test their skills against other players and find out who has the better army of heroes.
You can have over 40 different heroes in your own personal squad, but in battle you can only take 5 of them along with you so you will need to choose wisely. Every hero has its own distinct strengths, weaknesses, and ultimate skills so composing your team of heroes that work well together is extremely important. The summoning circle is where you'll be able to acquire many of your new heroes, which includes both free and VIP options for players.
As you find players you want to play with or your friends join up in the game, you'll be able to form guilds with them to enhance the game's social experience. Items and loot can also be found on your adventures through challenging dungeons and mysterious caves, allowing you to push your heroes' strengths to untold heights. Hero evolution is even possible, transforming your team from just a bunch of regular members to heroes with untold strengths and powers!
Warfare is seemingly endless in this land, but you just might be able to stop it. With your commanding experience and the warrior spirit of your heroes, you'll be able to become a true champion and a Star of Heroes by bringing down Roshan!
Status: Released
Release Date: Apr 20, 2016
Business Model: Free to Play
Developer: Loygame
Publisher: Loygame
Category: Browser
Genre(s): 2D, MMO, RPG, Fantasy, Strategy
Platforms: PC, Mac

Pros:

+Join up with guilds.
+Squad selection is important.
+Dungeon variety.

Cons:

-VIP options affect gameplay.
-Nothing particularly innovative.
-Recharge system.



Recommended System Requirements:

Any modern internet browser such as Mozilla Firefox or Google Chrome.



First Strike Review
MMOHuts's Ojogo reviews First Strike, a mobile nuclear war game that simulates modern warfare in a tragic scale.
by Ojogo