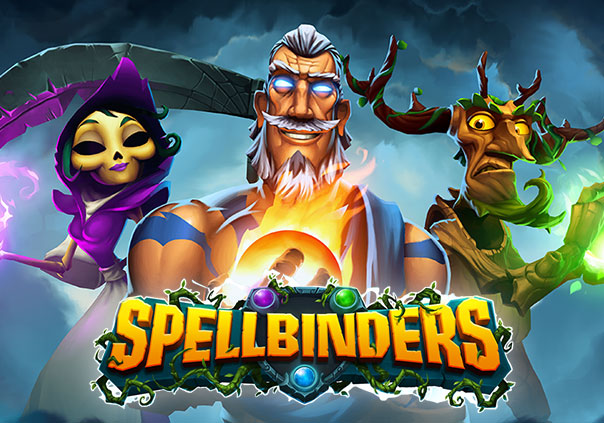 Spellbinders is a free to play mobile MOBA developed by Kiloo for iOS and Android. Spellbinders are the controllers of the battlefield, commanding armies, minions, and casting spells all in an effort to gain victory over their opponents. Some Spellbinders are said to even have the power to control and lead Titans, so your work will certainly be cut out for you if you wish to rise above all other Spellbinders.
In battles players will have to manage three separate lanes, summoning units down them to fend off the opposing units that are trying to reach the opposite end of the lane. Cannons can be captured at the middle of the lane that will slowly whittle away at your enemy's health over time, and if your units happen to make it to the enemy's side of the lane they will also take some of their health away.
For winning battles you will acquire coins, which can be used to either purchase Titans to use in your upcoming battles or for upgrades for your Spellbinder. Spellbinder upgrades consist of health boosts and mana boosts which will increase the maximum amount of health and mana you have. Power Charges and Mana Charges can also be bought, which can be used during matches to give you mana on the fly or let you use a powerful Spellbinder skill.
The canons have been drawn and the lanes are set. All that you need to do is summon your Titan and lead it to victory by whatever means necessary!
Status: Pre-Release
Release Date: Apr 28, 2016
Business Model: Free to Play
Developer: Kiloo
Publisher: Kiloo
Category: Mobile
Genre(s): 3D, MOBA, Fantasy, Strategy
Platforms: iOS, Android

Pros:

+Very crisp, smooth animations.
+Varying Titans types to choose from.
+Entertaining audio and voices.

Cons:

-Repetitive gameplay.
-Freemium options dictate gameplay.
-Lacks true strategy.



Recommended System Requirements:

OS: iOS 8.0+ OR Android 4.0+
HDD: 86.1 MB