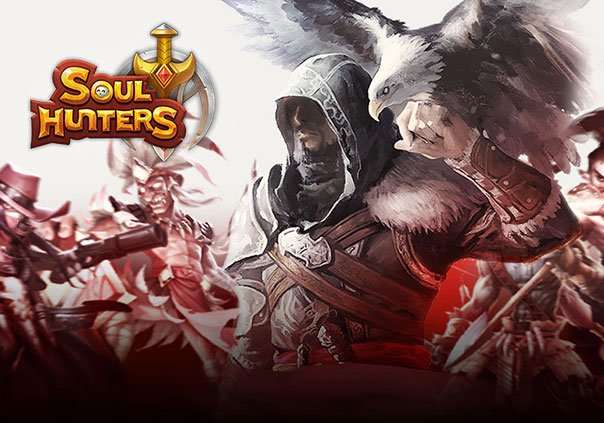 Soul Hunters is a free-to-play fantasy mobile RPG developed by Lilith Mobile for iOS and Android where you can collect over 50 different heroes to use in real-time, strategic battles. A dark curse has been cast upon the kingdoms and only you can stop it by unifying an unstoppable force of heroes.
Soul Hunters features a singleplayer campaign with a linear dungeon map where you will engage in battles with enemies, collecting other hero cards on your adventure like an Ice Dragon, a Sun Goddess, a Wolf Child, or even Ezio from Assassin's Creed! The two most important factors in these battles will be how effectively you have set up your party and how well you time the activation of your heroes' Ultimate skills. Every hero that you collect will have a specific role in your party like being a tank, dealing damage, or acting as a support hero. The hero cards that you collect on your journey can also be fused or upgraded with other hero cards to make them stronger so you can explore even further into the game's dungeon map and take on even stronger players.
Soul Hunters also features a multiplayer PvP experience where you can fight against other players in an Arena to prove that you are worthy of the title Arena Master. An even more challenging arena called the Epic Arena awaits players who are seeking even more of a challenge and want to earn the title of Elite Soul Hunter. Guilds also provide a multiplayer experience in that by creating or joining one players will be able to participate in raids and weekly Guild Wars to earn exclusive rewards!
So what are you waiting for? Time is of the essence and uniting a strong group of heroes is no easy task to accomplish. The kingdoms are counting on you!
Status: Released
Release Date: Jun 24, 2015
Business Model: Free to Play
Developer: Lilith Mobile
Publisher: Lilith Mobile
Category: Mobile
Genre(s): 2D, RPG, Fantasy, Strategy
Platforms: iOS, Android

Pros:

+Well-balanced heroes.
+No paywall, but there are still purchasables.
+Many ways to level up.
+Drop rates for fusion items is satisfactory.

Cons:

-PvP power calculations not completely accurate.
-In-game incentive for high store rankings.



Recommended System Requirements:

OS: Android 3.1 / iOS 6.0 or later
HDD: 193 MB