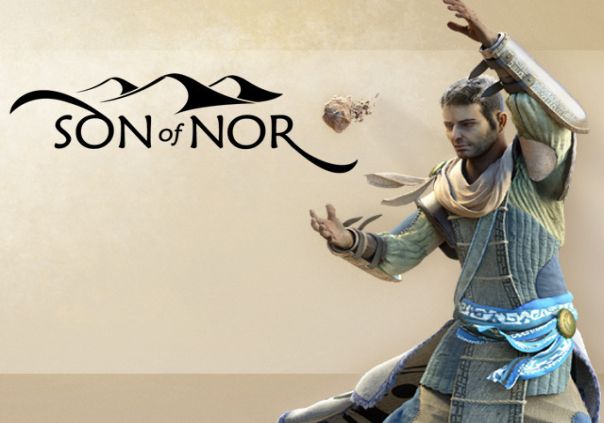 Son of Nor is a fantasy adventure game developed by stillalive studios and published by Viva Media. Use special powers of telekinesis and terraforming as you fight in the Great War with the Sarahul Empire. Solve puzzles and venture through long forgotten temples with friends in this co-op adventure.
Features:
Mystic powers: Use the power of teleinesis, terraforming and elemental magic to defeat foes and solve puzzles.
Intriguing Storyline: Experience the full 12+ hour storyline of Son of Nor, set in a deep original universe featuring dozens of characters brought to life by professional voice actors.
Co-op Multiplayer: Son of Nor supports four-player online co-op play as well as two-player local splitscreen co-op.
PvP Multiplayer: Prove who is the most powerful Son of Nor in chaotic four-player competitive multiplayer action!
Status: Released
Release Date: Mar 31, 2015
Business Model: Retail
Developer: stillalive studios
Publisher: Viva Media
Category:

Stand-alone

Genre(s):

3D, Adventure, Fantasy

Platforms:

PC


Editor's Score: 4/5

Pros:

+Innovative gameplay
+Peripheral support (Oculus Rift, eMotiv)
+Interesting Backstory

Cons:

-Single player campaign fells 'tacked on.'



Minimum System Requirements:

OS: Windows Vista / 7 / 8, Mac OSX (10.9.3 or later), Ubuntu 14.04 LTS, SteamOS
CPU: Intel Core 2 Duo / AMD Athlon x2 6400+ or faster
RAM: 4GB
GPU: nVidia 8800 GT / AMD 4670 or faster with 1 GB VRAM
HDD: 5GB



Additional Information:

· Tobii EyeX, Oculus Rift, emotiv EPOC peripheral support.
· Not compatible with all laptop/mobile GPUs

Description: Son of Nor is a fantasy adventure game developed by stillalive studios and published by Viva Media. Use special powers of telekinesis and terraforming as you fight in the Great War with the Sarahul Empire. Solve puzzles and venture through long forgotten temples with friends in this co
On paper, ArcheAge all sounds so perfect that people can't help but want to play. But does it live up to the expectations?
by ApocaRUFF
TERA first launched on PC on May 1st, 2012 and continues to go strong with consistent, engaging content.
by Ragachak
In this internet-powered era, it's likely that most people under the age of 30 have enjoyed pirated entertainment.
by MissyS