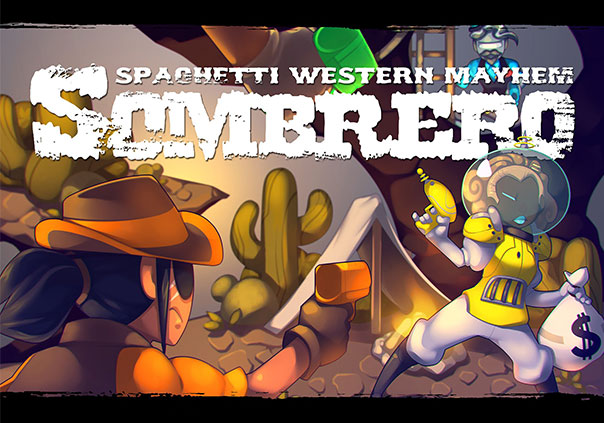 Sombrero is a spaghetti western multiplayer platformer developed by PixelMetal for PC and is available for purchase on Steam. In Sombrero players can take part in a western-inspired shootout for 2-4 players. Whether it be in local or online play, players can gear up with their favorite rough-and-ready character in a choice of different dangerous stages and fight it out against their enemies. Over a dozen different characters are available for you to choose, so you're sure to find one you like. Don't forget to keep track of power-ups in the midst of all of the hectic action as well! Everything from simple boomerangs and bombs to shotguns and alien weaponry will help shift the tides of battle in your favor. Regular content updates can also be expected, so there will be new locations for you to fight in, new characters for you to fight as, and new power-ups for you to collect. If you're looking for a unique platforming experience, then the western-themed Sombrero is surely worth a go. Whether you're a law-abiding citizen or a cattle rustler that loves to tussle Sombrero has a character and game mode for you, just make sure that you don't end up actually getting into a tussle with your friends!
Game Modes:
Deathmatch – Fight against your enemies and try to be the last man standing. After all that's the goal in the wild west isn't it?
Loot – Grab every money bag you can find before the timer runs out. The player with the most cash at the end of the match wins!
Capture The Flag – Capture every flag you can manage. Here you can take over the wild west one territory at a time.
Banditos – Battle against your opponents for control of the Golden Monkey Idol. The player that holds the idol for the longest before the match ends wins!
Status: Released
Release Date: Oct 27, 2016
Business Model: Retail
Developer: PixelMetal
Publisher: Alliance Digital Media
Category: Stand-alone
Genre(s): 2D, Shooter
Platforms: PC, Steam

Pros:

+Fast-paced, fun gameplay.
+Pleasing, stylized graphics.
+Solid concept.

Cons:

-Small playerbase in a multiplayer game.
-Long matchmaking times.



Recommended System Requirements:

OS: Windows 10
CPU: Intel Core i7
RAM: 8 GB
GPU: Nvidia GTX 980 or equivalent with 8GB VRAM
HDD: 500 MB



Lineage 2 Server Mergers Announced
Earlier this week NCSoft announced some server mergers for their pay to play MMORPG Lineage 2. All five current US servers will be merged into...
by Guest