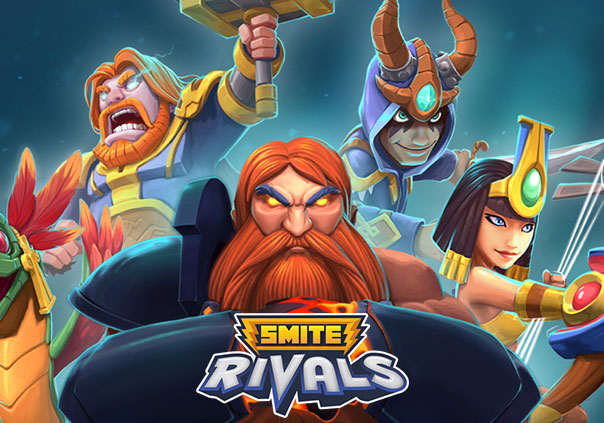 SMITE Rivals is a free-to-play CCA (collectible card arena) game developed by Hi-Rez Studios for PC and mobile devices. SMITE Rivals will take place in the same universe as the well-known MOBA called Smite and will feature many of the same deities that the MOBA does.
SMITE Rivals has been designed from the ground up with the intention of appealing the SMITE audience with familiar, fast-paced, engaging gameplay, but still different from the classic MOBA experience that SMITE brings to the table. Not only will players now be able to collect an entire army of their favorite SMITE characters in a new, playful art style, but you'll also be able to save your progress across different devices. Play on your PC while you're home, then when you're on the go you can pick up right where you left off on your mobile devices. This works the other way around as well! If you're stuck away from your computer you can take on your enemies in online matches on your mobile device, then come home to start up with the same progress.
Matches will take place on a three lane field against a single opponent where cards that represent your units can be played to deploy them. Deployed units will work their way towards the enemy's side of the battlefield in an attempt to overpower them and take their tower. As players progress they will be able to collect new cards to deploy new units, which in turn opens up even more strategies and playstyles to use in matches.
With progress that persists across devices and exciting deities that create all sorts of unique, strategic situations SMITE Rivals will have you strategizing at home and on the go!
Status: Pre-Release
Business Model: Free to Play
Developer: Hi-Rez Studios
Publisher: Hi-Rez Studios
Category:

Stand-alone, Mobile

Genre(s):

3D, Fantasy, Strategy

Platforms:

PC, iOS, Android



System Requirements not yet known.


Description: SMITE Rivals is a collectible card arena game where players can deploy some of their favorite deities from the MOBA SMITE in strategic 1v1 matches. The goal of the game is to overpower your opponents and take over their tower at the end of their three lanes.
AggroStudios, a leading European-based game development studio founded in 2009, is building an MMORPG targeted to girls, a large yet un-derser...
by Mikedot
Wargaming was on hand at PAX West to update us on the current state of Total War: Arena, now in closed beta.
by MissyS
The move will be done on January 28th. Log into the game within 2 weeks and get a "Welcome to the new servers" -Reward!
by Mikedot