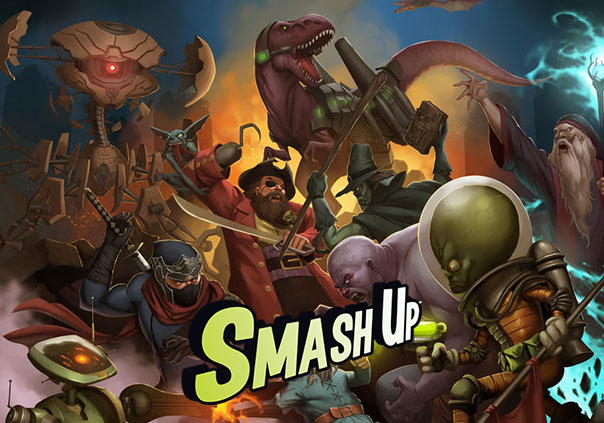 Smash Up is a free-to-play strategy card game developed by Nomad Games for PC and is available for Early Access download on Steam. Nomad Game's Smash Up is an entertaining digital adaptation of the original card game where players can take two different factions like zombies, pirates, robots, and more, and combine them to create a deck of their own!
When the battle beings between you and your opponents you will all take turns drafting one of several faction decks. Once every player has acquired two faction decks they shuffle the two decks together to create a unique 40-card deck with mixed abilities, all of which will play different. A Zombie-Pirate deck will play much differently than a Zombie-Ninja deck. Players then get a number of Base Cards and will use their unique deck to help them get the most power on a base possible when it gets scored.
The free version of the game gives players everything they need to get started in their Smash Up shenanigans, including three starting factions: Ninjas, Geeks, and Dinosaurs. As players wish they can purchase different card packs that will give them even more factions to mix and match with their decks like Zombies, Wizards, Tricksters, Pirates, and more! AI matches will give you the chance to practice with any deck combinations you can make against computer players, and once you feel like you're finally practiced up you can take to online matches against other players. Different deck selection methods like manual or random are also included to spice up matches even more.
If you were a fan of the card game itself, then you'll surely enjoy seeing your battles come to life in the digital version Smash Up where you can become a master of all factions!
Status: Pre-Release
Release Date: Oct 12, 2016
Business Model: Free to Play
Developer: Nomad Games
Publisher: Nomad Games
Category:

Stand-alone

Genre(s):

2D, Fantasy, Strategy

Platforms:

PC, Steam


Pros:

+Fun adaptation to the card game.
+Expected to deliver all expansions.
+Great visuals.

Cons:

-Buggy and laggy in early access stage.
-User interface needs some polishing.
-Slow gameplay due to confirmations.



Recommended System Requirements:

OS: Windows Vista or later
CPU: 2.0GHz Dual Core
RAM: 2 GB
GPU: NVIDIA GeForce 9600GT or AMD Radeon HD 4600
HDD: 500 MB



Description: Smash Up is a free-to-play strategy CCG where players can form their decks out of two different factions to combine their abilities. No two decks will play the same, giving you tons of combinations to learn and master to take into battle!
So the new mission type known as "Assault" is one of the longest non-endless (Survival, Defense) missions in the game.
by Mikedot
Recently, EA has announced that their upcoming 4 vs. 1 Action RPG "Shadow Realms" has been cancelled. Those that have participated i...
by Mikedot
Kings and Legends, the unique card-based, free2play browser title, today launches the new daily Tournament system, a different way to compete ...
by MissyS