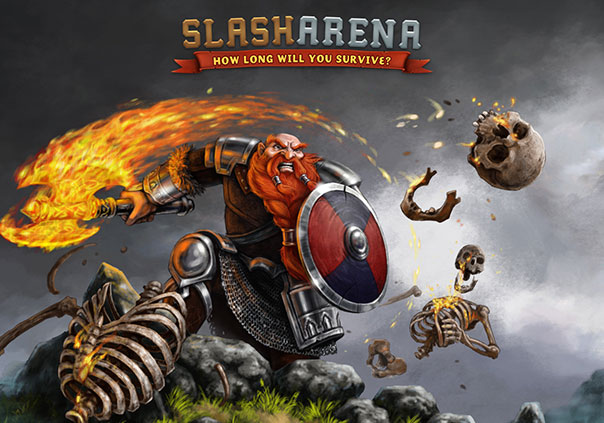 Slash Arena: Online is a free-to-play fantasy MOBA developed by Drunken Monday for iOS, Android, PC, Mac, and Linux. It is available for download on Steam Early Access.
In Slash Arena: Online players can fight in multiplayer battles with their trusty weapon of choice, spinning it in circles in hopes of connecting with an enemy to eliminate the competition. With very simple, addicting gameplay all you need to do is dodge incoming attacks and choose the right time strike back at your foes!
Every match gives you the chance to collect more resources to upgrade your weapons and increase your striking power, as well as boost your matchmaking ranking so you can take on more experienced opponents. Monthly rewards are also given to the best players, so try your best and play often to earn some great items and gear. Your character's appearance will also change every 3 levels as you get more experienced, showing off to everyone just how great you're becoming at spinning your weapon.
There are two main game types to play: Deathmatch and Arena 1vs1. In Deathmatch up to 30 players fight in a free-for-all style, trying to score the highest damage to win. Arena 1vs1 is the official ranked match type of Slash Arena. Here players will square off against each other in 1 on 1 battles where even more emphasis is put on an individual's skills. Either way your damage is calculated by physical laws, meaning the faster you're moving and the quicker you're spinning the more pain you're going to be able to dish out.
Spin-to-win has never had a more clear-cut meaning than it does in Slash Arena: Online. Take part in action-packed battles where you can put your skills and timing to the test! Will you rise to the top of the arena rankings?
Status: Released
Release Date: Sep 01, 2017
Business Model: Free to Play
Developer: Drunken Monday
Publisher: Drunken Monday
Category: Stand-alone
Genre(s): 3D, MOBA, Fantasy
Platforms: PC, Mac, Linux, Steam, iOS, Android

Pros:

+Simple, but fun concept.
+Fast matches.
+Good price.

Cons:

-Small community.
-Needs polishing.



Recommended System Requirements:

OS: Windows XP / OS X 10.6 / Ubuntu 16.04 or higher
CPU: Intel Core 2 Duo 2.0 GHz or AMD Athlon X2 2.2 GHz
RAM: 2 GB
GPU: NVidia 240, ATI 4650, Intel Integrated HD4000 or better
HDD: 2 GB