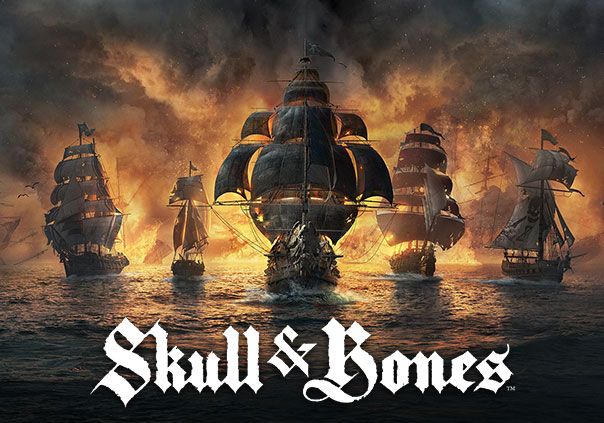 Skull and Bones is an upcoming RPG developed by Ubisoft where players can become pirates and command their very own warship. In Skull and Bones players can sail the Indian Oceans by themselves in a singleplayer campaign or find up to five other players to either align with or engage with in fierce naval combat that only the truest of pirates can handle. Different kinds of ships can be collected throughout the game and the captain of the ship can be customized to your liking.
Mortars, canons, rockets and more can be used to fend off your enemies and ultimately sink their ships. You can even simply ram your ship into others, dealing damage in one of the most simplistic, yet satisfying of ways. Wind positioning is another important aspect of battles. Correctly maneuvering your ship according to the direction of the wind can give you massive advantages.
To battle against other players you can sail your ship to the Disputed Waters, one of the most dangerous areas of the Indian Ocean. It is here that different PvP matches can be joined. One of the core multiplayer game modes in Skulls and Bones is Loot Hunt. In Loot Hunt two opposing groups of players set sail to acquire the most treasure for their team. Ships in Loot Hunt can have their crow's nests upgraded to provide them with a vantage point and spyglasses can be used as well.
If you've ever wanted to live the life of a pirate – charging around the sea and swinging your entire ship around to deliver a massive volley of firepower, then Skull and Bones is for you. Choose your favorite type of ship, outfit your captain for success, and take to the waters in search of riches in Skull and Bones!
Status: Pre-Release
Business Model: Retail
Developer: Ubisoft
Publisher: Ubisoft
Category:

Stand-alone

Genre(s):

3D, RPG

Platforms:

PC, Xbox One, PS4



System Requirements not yet known.


Description: kull and Bones is an upcoming sailing RPG where players can become a pirate, customize their ship's captain, and hunt for treasure in the Indian Ocean. The game can be played in a singleplayer narrative or in different multiplayer PvP matches.
Masthead Studios announced new set of events are coming to their online shooter Guns and Robots this Spring.
by Mikedot
Teams of mages will group together and unleash their infinite power against one another, devastating everything in their paths.
by Ragachak