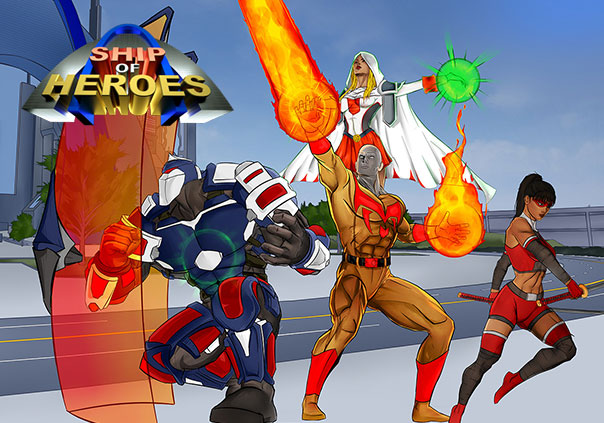 Ship of Heroes is a 3D MMORPG developed by Heroic Games where players can assume the role of a superhero on a spaceship! It is 2487 AD and the human population has far outgrown the capacity of the Earth. Nearby star systems have been colonized and terraformed into survivable environments for humans, resulting in the formation of the galactic Human Federation. Insanely massive ships have been constructed to help the human population move around, some of which can contain entire cities on the inside. The FHS Justice is one of these enormous ships, and it is where you'll find your home.
As one of the few people on board with superhuman abilities it is your job to help maintain order and protect the FHS Justice's citizens. From what you might ask? None other than the alien species that don't take kindly to humanity invading their territory. While one level of the ship houses the Apotheosis City with a dangerous zone of alien lifeforms at its southern edge, another entirely different level called the Harvest Pit has been given over to a large variety of dangerous lifeforms. Here the boldest traders and heroes will recover rare byproducts of the dangerous lifeforms that are now indigenous to this level of the ship.
Players will be able to customize their own hero from a wide variety of options. Everything from changing their look with hundreds of different costume pieces to writing their backstory will be in your hands. An archetype will also need to be chose for your hero that will help determine their playstyle like tanker, blaster, and more. Even your hero's powers can be customized to have a unique look that helps set them apart from every other player!
Keep the peace on the FHS Justice, protect its citizens, and put every unruly alien you come across in its place. A ship this dangerous definitely needs its heroes!
Status: Pre-Release
Business Model: Free to Play
Developer: Heroic Games
Publisher: Heroic Games
Category:

Stand-alone

Genre(s):

3D, MMO, RPG, Sci-Fi

Platforms:

PC



System Requirements not yet known.


Description: Ship of Heroes is a 3D MMORPG where players can assume the role of a superhero on a spaceship, customize their hero and its skills to their liking, and protect the citizens of Apotheosis City from any hostile lifeforms that dare stand in their way.
Lunarch Studios has announced that its hybrid strategy game Prismata will go free-to-play on September 26.
by MissyS
Reto-Moto has just released a new update called 'Spaatz' for their popular WWII MMOFPS Heroes & Generals. This update brings a n...
by Mikedot