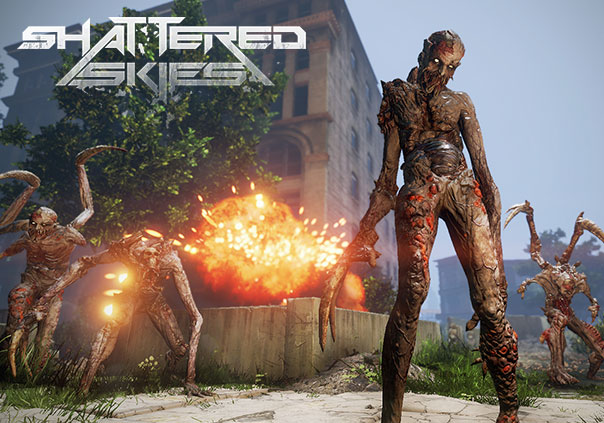 Shattered Skies is a FPS open-world survival game by Free Reign Entertainment. An alien species has crashed landed on earth and is turning everyone into horrible mutant creatures. With the world already steeped in death and destruction, you and other players must hunt, scavenge and find shelter in order to survive this new and brutal world.
These new mutant lifeforms are quick and intelligent, so don't expect them to go down like mindless zombies. Players will have to use their wits to take them down, as well as scavenge and pillage everything they can find in order to protect themselves from mutant aliens, as well as other players. Every building in the game can be turned into a powerful fortress with the right tools and equipment, so build then up properly and you may just survive to see another sunrise.
Eith limited resources, limited weaponry and limited supplies all over, survival is truly key in the world of Shattered Skies.
Status: Pre-Release
Business Model: Retail
Developer: Free Reign Entertainment
Publisher: Free Reign Entertainment
Category:

Stand-alone

Genre(s):

3D, Adventure, Shooter

Platforms:

PC


Pros:

+Impressive visuals
+Threatening mutant creatures encourages co-op survival
+Massive world to explore

Cons:

-Safe zones diminish the survival aspect



Recommended System Requirements:

OS: Windows 7, 8.1 and 10
CPU: Intel Core i7-3770, AMD FX-8350, or better
RAM: 8 GB RAM
GPU: NVIDIA GeForce GTX 970 | AMD Radeon R9 290, or better
HDD: 20 GB



Description: As an open-world sandbox survival shooter, it takes the genre to the next level by incorporating mutant lifeforms that are quick and cunning instead of mindless zombies that are hardly a threat like in other multiplayer survival shooters.
NCSoft has released the latest update to City of Heroes, titled Where Shadows Lie
by MissyS
World of Warplanes is the recently released free-to-play warplane-based game brought to us by the creators of World of Tanks, Wargaming.
by ApocaRUFF