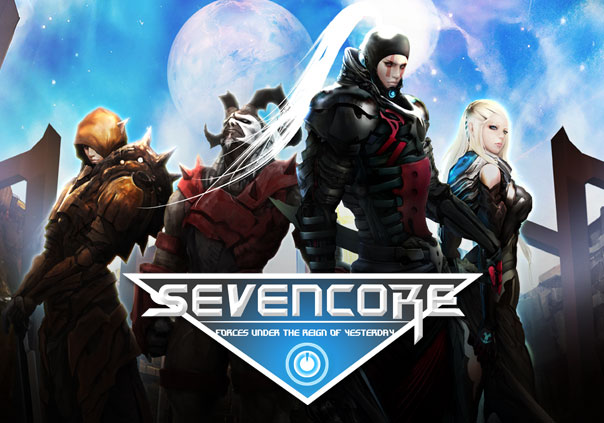 Sevencore is fantasy action MMORPG that combines the ancient art of magic with modern technology. Players step into the role of pledging heroes ready for war in a land where mythical beasts roam the countryside, spells are prevalent, and mechanical robots are part of their every day existence. Take part in combat via land, air, and sea using a wide selection of diverse mounts. Adopt a pet companion, fight in faction based PvP war, or even raid dungeons with friends. In this riding action role-playing game power, politics, and alchemy coincide. There are three different races and core classes that players can choose from. Each class offers two distinct weapons and their own set of special skills to master. There's no specific healing class in Sevencore. The classes often possess a combination of abilities common for tanks, rouges, and healers.
Races – Scion, Einher, and Nuuk
Classes:
Warrior – Skilled in melee combat tactics this soldier utilizes blades and twin great swords to destroy opposing foes. Their heavy armor gives them a strong line of defense.
Gunner – Packing some serious heat, Gunners are capable of quick devastating long range attacks. They can fire at enemies using Dual Guns or an impressive Artillery Launcher.
Magician – Despite their lack of armor, magicians are able to deal large amounts of damage upon opponents with a flick of the wrist. Armed with wand or staff they can execute a variety of powerful spells.
Status: Pre-Release
Business Model: Free to Play
Developer: Gpotato
Publisher: Webzen
Category:

Stand-alone

Genre(s):

3D, MMO, Fantasy, Sci-Fi

Platforms:

PC


Editor's Score: 3/5

Pros:

+Faction based PvP battles.
+Combat by land, air, and sea.
+Dungeon raids.
+In-depth mounts system with a wide selection to choose from.
+Pet options.
+Auto potion system.
+Convenient target select feature.
+Rewarding political system.

Cons:

-Gameplay can feel repetitive.
-Mounts must be individually leveled up to access skills.
-Crafting system could be better.
-Controls buggy at times.



Recommended System Requirements:

OS: Windows XP and up
CPU: Intel Core 2 Duo / AMD Athlon 64 X2
RAM: 1GB
GPU: NVIDIA GeForce 8600 / ATI Radeon X2600
HDD: 4GB



Description: Motorbikes and dragons both ride through the sci-fi/fantasy world of Sevencore. Join into a unique storyline based on your faction, and choose from four classes including Mage and Gunner.
PopPace has jus announced that its first self-developed MMORPG called Holy Blade Online will start Open Beta at 20:00pm on February 18th GMT-6...
by Mikedot
As an Onmyoji, you will summon and combine your Shikihime to do battle and cleanse the land of evil spirits. There are also elements of...
by ApocaRUFF