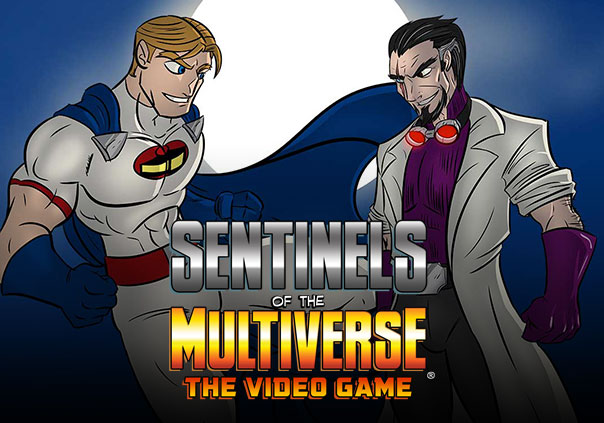 Sentinels of the Multiverse
Sentinels of the Multiverse is a buy-to-play 2D card game developed by Handelabra Games Inc. for PC, Mac, Linux, SteamOS, Android, and iOS where you can control a team of heroes battling evil villains in an effort to save the multiverse.
Every hero that you encounter on your journey will have their own unique backstory, motives, grudges, and playstyles to offer your team and help you defeat any of the maniacal villains you might encounter. The game itself plays like a comic book come to life where you will use cards that represent your team of heroes to fight off foes. Every turn you will need to play a card, use a power, and then draw another card to replace the one that you used that turn. This might seem overly simple at first, but don't be so easily fooled. Every card you play is one you won't have for a later turn that could weigh heavily on your opponent's retaliating move. The singleplayer version of the game lets you fight off villains with your team of heroes, whereas the multiplayer version of the game lets you take to online battles where you can join other heroes from around the globe in intense card battles!
The standard version of the game comes with all you'll need to get started on your adventure with 10 different heroes for you to use, 4 different villains to fight against, and 4 different environments to battle in. There are even variant heroes and variant villains in the standard edition of the game, which are versions of the same characters with alternate powers and backstories. If you haven't had enough with the standard version of the game you can even purchase which will include even more heroes, villains, and environments for you to enjoy!
Status: Released
Release Date: Dec 22, 2014
Business Model: Retail
Developer: Handelabra Games Inc.
Publisher: Handelabra Games Inc.
Category: Stand-alone, Mobile
Genre(s): 2D, Strategy
Platforms: PC, Mac, Linux, Steam, iOS, Android

Pros:

+Slick, responsive gameplay.
+Worthwhile port of the board game.
+Hundreds of combinations to experience.

Cons:

-Little content in standard edition.
-Small multiplayer community.
-No stakes for multiplayer battles.



Recommended System Requirements:

OS: Windows XP SP2 / OS X 10.8 / Ubuntu 12.04 (or later)
CPU: Processor with SSE2 instruction set support
RAM: 2 GB
GPU: DX9 (shader model 2.0) capabilities, 1024x768 resolution
HDD: 600 MB