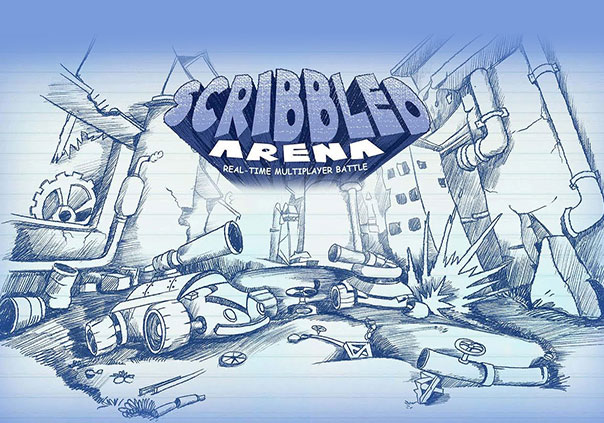 Scribbled Arena is an upcoming 2D twin-stick shooter developed by Apar Games for PC and will be available on Steam Early Access in September, 2017. Tank battles have never been so silly and fast-paced in Scribbled Arena where players will duke it out arena style with all sorts of chaotic projectiles flying through the air.
Tank weapons can be customized to the player's liking, meaning that each primary and secondary weapons can be selected independently. Mines, shot guns, EMP blasts, and machine guns are just the beginning of the kinds of weapons that you can mix and match to find the perfect combination for your playstyle. Tanks themselves can be selected from 5 already created models that you can put your weapons on.
Battles can take form in two different types. Players can team up with 5 of their friends and fight against another team or instead they can go into matches alone and fight against 9 other solo players to see who comes out on top. Your friends won't be limited to the same OS either. Cross-platform play will help you get all of your friends in on the explosive doodle fun!
Power-ups will also be scattered across the battleground that will provide you some hefty firepower and other effects. Maps even have dynamic elements like destructible parts of the environment, barricades that can be moved, and portals that can help you dodge incoming enemy attacks.
Are you ready for insanely silly, fast-paced combat between tanks that look like your high school doodles have come to life before your very eyes? Scribbled Arena delivers a playfully simple and clean way for you to battle it out with friends while enjoying a unique art style like none other. Customize your own tank, take it to the arena, and blast away at friends and foes!
Status: Pre-Release
Business Model: Retail
Developer: Apar Games
Publisher: Apar Games
Category:

Stand-alone

Genre(s):

2D, MOBA

Platforms:

PC, Mac, Steam



Recommended System Requirements:

OS: Windows 7 or later
RAM: 2 GB
HDD: 200 MB



Description: Scribbled Arena is an upcoming 2D twin-stick shooter where players can customize their own doodle tank and fight against other players in an arena. Power-ups, dynamic arena environments, and all sorts of chaotic projectiles will ensure no two matches are the same!
Fans have been asking to see more early gameplay of WH40K: EC and the team at Behaviour is ready to respond with their first official live dem...
by Mikedot
Perfect World Entertainment today announced that Bomb Buds is available to download for iPhone®, iPad® and IPod® devices, and coming soon t...
by MissyS