*Note: This game has been cancelled or shut down and isn't available for play.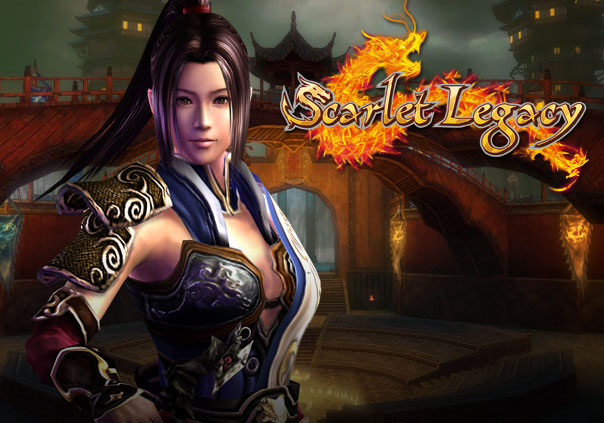 Scarlet Legacy is a free-to-play fantasy MMO set in a mythical world on the brink of a disaster. The creatures from the Demon Realm have surfaced wreaking havoc in the local villages and the half celestial Princess Scarlet is now missing. Players must help rescue the royal heir connecting the heavens with the Earth, in order to restore the shattered Chi balance. Complete challenging quests. Fight off rebel gangs and treacherous monsters using advanced tactical combat options. Much like the Warriors of the Three Kingdoms heroes explore a large world enriched with Asian dialogue and fluid attack animations. Wage war in the PvP Arena, duel others in the Bloody Village, or raid dungeons with party members. Similar to Battle of the Immortals this game features a botting system. Form relationships, adopt pets, and master multiple professions. Choose between one of four classes each featuring three unique skill trees. Transform into a warrior and leave behind a legacy in this epic action-packed adventure.
Professions – Mining, Blacksmithing, Jewelcrafting, Herbalism, Hunting, Cooking, First Aid, Weapons Crafting, Engineering, and Alchemy.
Classes:
Warrior – Always equipped for war they carry the heaviest armor and are capable of dealing some serious damage to foes. This tank class is armed with spears, staffs, and hammers.
Assassin – Swift and deadly their attacks are executed using weapons pierced with the power of fire, thunder, wind, and water. Assassins' core arsenal consists of the sword, dual-welding sword swords, and two-handed sword.
Monk – As masters of Acupuncture, Anatomy, and the Art of Meditation these peaceful warriors use their hands to take down opponents with minimal effort. Monks have the highest HP of all the classes. They are capable of casting spells for more effective strikes and self-healing.
Mystic – Mystics combine magic and melodies to protect or defend. A must-have in any party they're skilled in healing and long range attacks. These mages use the flute, lute, and zither to keep enemies at a distance.

Status: Shut Down
Business Model: Free to Play
Developer: GamesCampus
Publisher: GamesCampus
Category:

Stand-alone

Genre(s):

3D, MMO, RPG, Fantasy, Fighting

Platforms:

PC


Editor's Score: 3/5

Pros:

+Four starting classes, each with three skill trees.
+Ten crafting professions.
+Varied mounts, pets, and mini-games.

Cons:

-Built in botting system.
-Familiar setting and gameplay mechanics.



Recommended System Requirements:

OS: Windows XP / Vista / 7
CPU: Intel Core 2 Duo 3000 MHz / Intel Core Quad 2400 MHz / AMD Athlon 64 6400+ or better
RAM: 2 GB or more
GPU: GeForce 8800 / ATI Radeon HD 4700 or better
HDD: 4 GB or more



Description: Scarlet Legacy is a 3D fantasy MMORPG with action oriented combat, and stylish attack animations. Chose from specialized fighting styles and help rescue Princess Scarlet from the evil forces!
Seal Online: Blades of Destiny announced that their Christmas Update is just a few days away, arriving on Dec. 18th.
by Ragachak
Age of Empires: Castle Siege is coming to Windows 10 and is available today globally on the App Store for iPhone 4s + and iPad 2+.
by MissyS