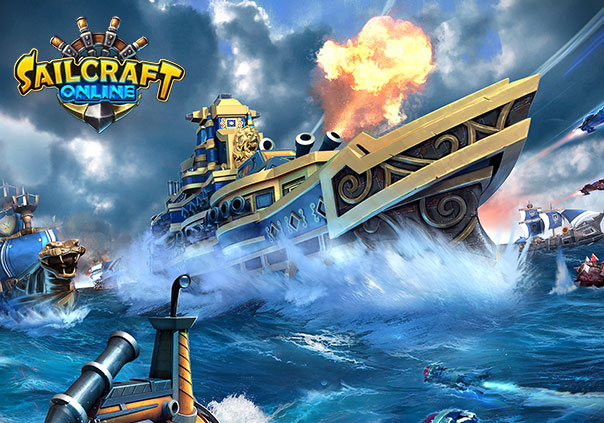 Sailcraft is a free-to-play mobile strategy game developed by TQ Games for Android. It is expected to see an iOS release as well sometime in 2017.
In Sailcraft players can participate in exciting naval warfare where they can dominate the world with their own unique strategy and style. If you were ever a fan of the age-old game of Battleship then you are sure to enjoy the way Sailcraft mixes classic battleship rules with warship skills to creative an innovative gameplay experience.
Players can create different kinds of ships based on three different races: humans, elves, and dwarfs. Mix and match between the glorious human warships that display all their pride, the rough and tough dwarf warships, and the elegant elf magic ships. You might even be able to get your hands on special event ships like alien ships that will really set you apart from all of the other warriors out there. The more combinations and formations you try the more strategies and tactics you can discover. Mortars, torpedoes, missiles, scouts and more will be at the beck and call of your fingertips in this game!
To battle you can take your fleet to the Arena and challenge other warriors for their trophies that you think you deserve instead. Those who put careful thought into their formation and what their opponents' formations could look like will have the best shot at securing victory. You'll be fighting on a worldwide scale, so be sure to bring your best fleet possible to prove your worth!
With exquisite 3D graphics, numerous warships to put into your formation, and unique gameplay that is like a revamped version of a classic Sailcraft will reel you in like a fish out at sea. Get on the water and out-strategize your opponents today in Sailcraft!
Status: Released
Business Model: Free to Play
Developer: TQ Games
Publisher: TQ Games
Category:

Stand-alone

Genre(s):

3D, Strategy

Platforms:

iOS, Android


Pros:

+Very strategic.
+Unique gameplay.
+Fun ship upgrade system.

Cons:

-Needs more content and systems.
-Battles not well balanced.
-Not enough room for saving fleets.



Recommended System Requirements:


Description: Sailcraft is a free-to-play mobile game where players can manage their own fleet of ships and take them into strategic battles. Create your own formation of ships from elves, dwarfs, and humans and show the other warriors of the world who actually owns the sea!
Today I was fortunate enough to play Guild Wars 2 with a few of the developers, and some other members of the Gaming Media.
by Ragachak
Development studio "Silver Style" has released a major content patch for the Dark Eye MMORPG "Herokon Online". It includes...
by Mikedot
OnRPG and MMOHut recap their day two experiences at E3 2012.
by DizzyPW