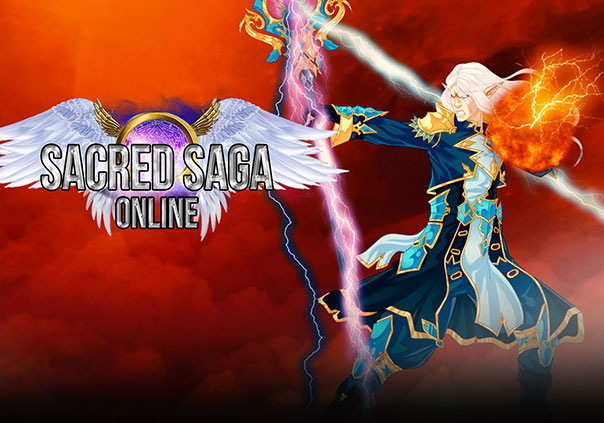 Sacred Saga Online is a free-to-play fantasy browser MMORPG developed by Global Genom Corporate where the city of Athens has come under attack. Athena needs as much help as possible and has chosen you as one of her champions to defend the ancient city from other jealous gods and their minions.
The reason Athens is under assault is simply because it is flourishing. Citizens are happy and have become more prosperous than ever, but with that change has come an increasing jealously from other gods. Chosen as Athena's champion you will fight all sorts of creatures, enemies, and possibly even the gods themselves to keep everyone safe. In return for your efforts Athena will reward you with different powerful sets of Sacred Armor that will make you stronger than ever before.
You can choose to begin your quest as either a Knight, Archer, or Mage. Each class has its own unique animations and attacks, but where your class is truly going to matter is during combat. Sacred Saga Online uses a class-based combat system where attacks come in the form of anti-warrior, anti-mage, and anti-archer. Depending on the enemies you face you'll want to use different attacks against them to be as effective as possible.
As you progress you will be able to find new gear and increase your strength even more. Enhance your armor and weapons, evolve different mounts and wings to wear, improve your skills and more to help you fight back against whatever the gods might have in store for you. Even your Sacred Sets can be upgraded and give you access to different Gods' Weapons once you've proven yourself worthy of them.
In a world being torn apart by jealously its only solace is you, chosen champion of Athena. Battle with her praises and show the gods that Athens is here to stay in Sacred Saga Online!
Status: Released
Business Model: Free to Play
Developer: Global Genom Corporate
Publisher: Global Genom Corporate
Category:

Browser

Genre(s):

3D, MMO, Fantasy

Platforms:

PC, Mac, Linux


Pros:

+Powerful item sets to collect.
+Smooth leveling progression.
+Tons of PvE content.

Cons:

-Lacks PvP content.
-Gender-locked classes.
-Lackluster combat.



Browser with Internet connection required.


Description: Sacred Saga Online is a free-to-play fantasy browser MMORPG where Athens comes under attack and players must defend it as Athena's chosen champion. Become an Archer, Mage, or Knight and earn different Sacred Sets of armor that can give you access to powerful Gods' Weapons!
InnoGames has launched an official U.S. specific server for its strategy game Grepolis.
by MissyS
Roadhouse Interactive Limited, a leading developer and publisher of tablet, mobile and browser games, today released the first major content u...
by Mikedot
Netmarble US, Inc., the newly formed North American gaming branch of the number one mobile game publisher in South Korea, Netmarble Games Corp...
by Mikedot