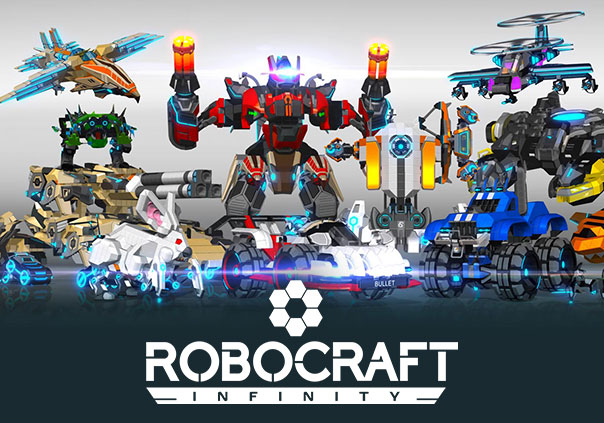 Robocraft Infinity is an upcoming buy-to-play shooter game developed by Freejam for PC and Xbox One and it is the remastered version of Robocraft. In Robocraft Infinity players can design their own weaponized mechs, drones, and other kinds of robots block by block and take them into 5 versus 5 online battles.
Whatever you want your robot to do it can practically do it! Completely customize your robots so they can walk, hover, fly, or drive right into battle and blast away at your enemies with your weapon of choice! The sky is the limit for how you want your robot to function and battle.
Much of the original Robocraft is getting a complete overhaul with new controls, physics, and achievements for you to complete. Even a new progression system called the Infinity Block progression system is being added to the game. With this new progression system it is believe you will be able to more easily collect blocks for your new vehicles by only having to collect a specific type of block once before using it numerous times to create your robot. New wheels are being added to the game and it will now support controllers which will be a great control scheme to take advantage of. There are also plans to frequently add new weapons and components to the game to make sure it doesn't get stale and gives new players a chance to join in with constantly changing metas.
Whether you want to fly around, drive around, blast enemies with lasers, or ram your enemies as hard as you can Robocraft Infinity has a robot for you. Create the exact robot that you would want to pilot, then actually do it! With your only limit being your imagination there are so many possible robots waiting to be created by you!
Status: Pre-Release
Business Model: Retail
Developer: Freejam
Publisher: Freejam
Category: Stand-alone
Genre(s): 3D, Sci-Fi, Shooter
Platforms: PC, Xbox One


System Requirements not yet known.