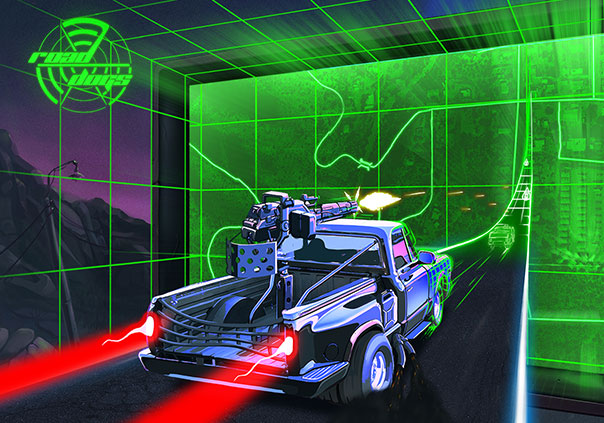 Road Dogs is a free-to-play 2D strategy MMO developed by Teletower Studios for PC, Mac, Linux, and is available for download on Steam Early Access. In Road Dogs players can explore the state of Arizona set in the aftermath of a nuclear war that left the planet practically in hibernation. Now transportation is really only possible with hermetically modified vehicles and face-to-face interactions have been replaced with the sounds of radio waves.
Before the global war the entire US territory was wrought with underground fuel storage facilities for militaristic reasons. Now that the world is in ruins the Nukeoil Corporation has taken over these facilities, making fuel worth more than blood. They're only willing to take their own crypto currency called Nucoins in exchange for the fuel, forging their hold on the nation's fuel reserves into a tight-knit monopoly.
Players now take on the role as a survivor of the nuclear warfare and can explore a seamless, open world. There are no limits on participants, which means PvP could happen on any sort of scale at a moment's notice. Being that your vehicle is your primary mode of transportation, it's only fitting that you are able to customize it to your liking. Get a hold of a motorcycle, buggy, sports car, truck, van, bus, armored car, tank, or even an artillery vehicle and customize its name, appearance, armor, weaponry, tuning, and gadgets to perfectly suit your needs.
With a classic role-based character system players can choose a specialization like scout, artilleryman, party leader, engineer, or ammunition and fuel delivery driver. Set up parties with other players to keep each other safe and make use of smart class combinations to get things done. Just make sure you can trust everyone you're teamed up with. Protect trade vehicles as they make their way to settlements, kill or save others, complete quests, or trade quests with other players.
When the world has been ravaged by nuclear warfare and the government has been dismantled there is little you can do but fight for survival. Take on the world as a lone wolf or party up with other players and see if you can set the stage for a new US economy in Road Dogs.
Status: Released
Release Date: Sep 25, 2017
Business Model: Free to Play
Developer: Teletower Studios
Publisher: Teletower Studios
Category: Stand-alone
Genre(s): 2D, MMO, Strategy
Platforms: PC, Mac, Linux, Steam

Pros:

+Very unique concept.
+Entertaining easter eggs.
+Tons of potential.

Cons:

-Shallow content.
-Unexciting gameplay.
-Repetitive questing.



Recommended System Requirements:

OS: Windows 7 or later
CPU: Dual-Core 1.7 GHz
RAM: 3 GB
HDD: 2 GB