*Note: This game has been cancelled or shut down and isn't available for play.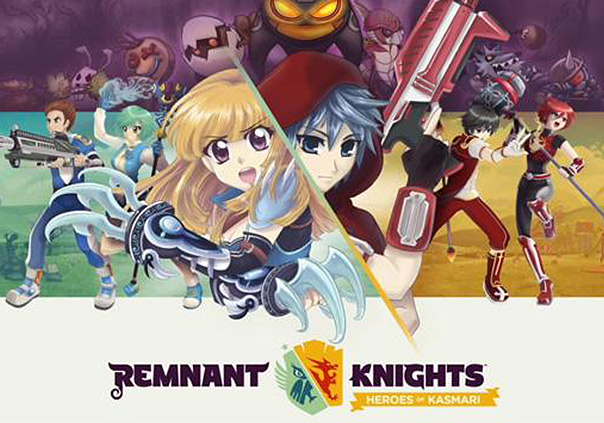 Remnant Knights is a fantasy MMO where players become young students on the verge of knighthood. After a mysterious asteroid struck Earth it caused a rift between dimensions which unleashed an army of aliens known as the Skalari. Top scientists and military leaders tried to manipulate the portal to their advantage but the experiment backfired pulling a portion of the planet within it. Now part of another realm called Kasmari the human race must fight to stay alive. Join the Dragon Academy to learn the laws of nature and science or the Owl Academy to discover how to use magic and energy. Tackle difficult quests and take various assessments on your path to becoming a knight. Fight pupils from rival schools in PvP arena battles. Summon pets to assist in combat or form a club and quest together. Fight off hundreds of peculiar monsters using elemental power, guns, or sheer brute force. Comparable to games like Eden Eternal or Grand Fantasia in terms of graphics it follows a school theme similar to RAN Online. Each players receives their own dorm room to decorate and can advance into different majors or classes depending on their selected academy.

Classes:

Gun Circle
Heavy Launcher – Can dominate enemies at a long distance, and provide cover fire.
Dual Gunner – Fires quickly at multiple targets, providing many area and piercing attacks.

Magic Circle
Elementalist – Casts long-range magic and area attacks. Inflicts abnormal status effects on targets.
Priest – Can heal and buff teammates using sacred magic. Very important in parties.

Fight Circle
Striker – Equipped with claw weapons that have the fastest attack speed and critical hit rate.
Crasher – Armed with a powerful, but slow hammer. Crashers have high defense and provoking abilities.

Status: Shut Down
Business Model: Free to Play
Developer: GameSamba
Publisher: GameSamba
Category:

Stand-alone

Genre(s):

3D, MMO, RPG, Fantasy

Platforms:

PC


Editor's Score: 4/5

Pros:

+Great interface.
+Flexible game engine supports high and low end systems.

Cons:

-Restricted character customization options.



Recommended System Requirements:

OS: Windows XP / Vista / 7
CPU: Intel Core 2 Duo 3000 MHz / Intel Core Quad 2400 MHz / AMD Athlon 64 6400+ or better
RAM: 4 GB or more
GPU: GeForce 8800 / ATI Radeon HD 4700 or better
HDD: 4 GB or more



Description: Remnant Knights is a 3D school themed fantasy MMORPG set on an anime-inspired planet inhabited by corrupt creatures. Players step into the role of a student and member of a community of displaced humans that must find a way to survive in their new world.
The Dark Eye MMORPG Herokon Online can now be played via Facebook. Beginners and The Dark Eye veterans alike can now easily connect with their...
by Mikedot
As of today, MapleStory M has three new unique explorer characters to choose from. This includes the thief Shadower, Hero, and the ArchMage.
by Ragachak
A new update to Aion today addresses some of the game's mechanics based on player feedback and adds incentives for players who have been abs...
by MissyS