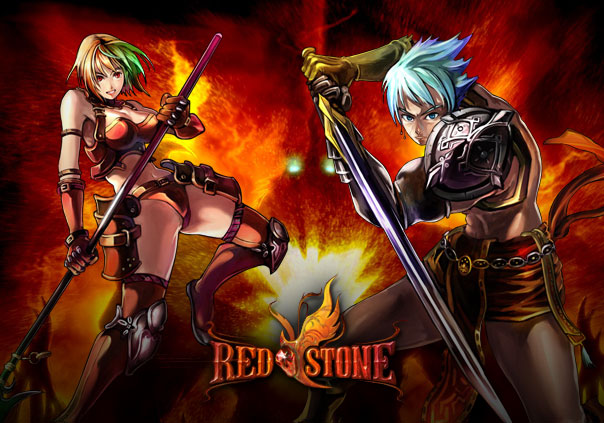 Red Stone is a unique 2D Fantasy MMORPG by L&K Logic. Red Stone looks a lot like the classic RPG Diablo with lower quality graphics. The game's most notable features are its large selection of playable classes and skills. Each of the game's eight playable characters are composed of two different classes which players can switch back and forth from at will. This feature alone adds an incredible amount of variation to the game, which is a welcome change in an industry that largely isn't known for creativity. Unfortunately, the Red Stone's dull gameplay and obvious glitches really hurt the game's prospects. The game's playable classes are:
Squire / Warrior – The Squire/Warrior is the primary melee fighting class in Red Stone. They are capable of dealing a fair amount of damage in melee range and also have powerful defensive capabilities.
Magic Archer / Magic Lancer – This character has both powerful ranged and melee attacks. Their hp however is less than that of the Squire/Warrior class.
Tamer / Summoner – This class relies on a 'pet' to aid them during combat. The character's stats effect both themselves and their pets.
Thief / Monk -This class is proficient at dealing a large amount of damage quickly within melee range, but they tend to have lower hit points than the other melee classes in Red Stone.
Priest / Fallen Angel – The Priest/Fallen Angel is the primary supportive spell casting character in Red Stone. They are incredibly helpful in groups, but are vulnerable when they're alone.
Magician / Werewolf – This class uses powerful magic attacks as a Magician and intense melee attacks as a werewolf. An interesting combination of classes.
Princess / Little Witch -The Princess/Little Witch has both ranged attacks like an archer and powerful offensive spells like the Magician.
Necromancer/ Demon – This class relies on dark magic to defeat their enemies. They have powerful debuffs. They tend to have low hit points and are vulnerable in melee combat.

Status: Released
Business Model: Free to Play
Developer: L&K Logic Korea
Publisher: Gamengame
Category: Stand-alone
Genre(s): 2D, MMO, Adventure, RPG, Fantasy
Platforms: PC

Pros:

+Large selection of classes (16 in total).
+Plenty of skills.
+Unique 'class transformation' system.

Cons:

-Game prone to crashing.
-Combat feels buggy.
-Poor English translations.



Recommended System Requirements:

OS: Windows XP, Vista, 7
CPU: Intel Pentium 4 3.0Ghz
RAM: 512 MB
GPU: Nvidia Geforce 6600 or ATI Radeon X1000